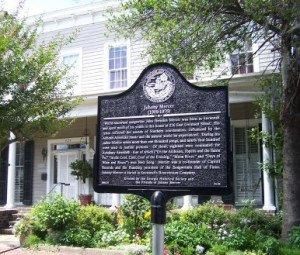 The week's #MarkerMonday focuses on Georgia's musical history through the life of songwriter and Savannah native, Johnny Mercer. In a career spanning nearly 50 years, Mercer co-founded Capitol Records, wrote for Broadway musicals, and was nominated for several Academy Awards, winning four. John Herndon Mercer was born and spent much of his youth in Savannah. He sang in the choir at Christ Church and enjoyed listening to Louis Armstrong and Ma Rainey, all of which influenced his musical style. After his father's business failed in the 1920s, Mercer was unable to attend Princeton University, as many of his other relatives had. Instead, Mercer went to New York to pursue a career in show business. In 1935, Mercer moved to Hollywood where he met with even greater success. Many of his songs are some of the most popular of all time such as "Moon River," "Jeepers Creepers," "That Old Black Magic," and "In the Cool, Cool, Cool, of the Evening." Of the nearly four hundred songs used in motion pictures, eighteen were nominated for Academy Awards; four of which won Best Song. Throughout his career, Mercer drew upon his deep love of Georgia for inspiration. He also returned to Georgia often, having purchased a house near Vernon View on Burnside Island, a Savannah retreat. Georgia's politicians would later honor Mercer when they renamed the Back River, which flowed down to his house on Burnside Island, the Moon River. Mercer died June 25, 1976 after a struggle with brain cancer. He is buried in his family plot in Bonaventure Cemetery in Savannah.
Explore the links below to learn more about Johnny Mercer.
GHS is proud to house several collections related to Johnny Mercer including Mercer's personal correspondence, the Mercer Family papers, and a collection of Mercer's sheet music.
Johnny Mercer was he Featured Historical Figure for the 2009 Georgia History Festival, and GHS has online learning materials available on the website.
Today in Georgia History Video