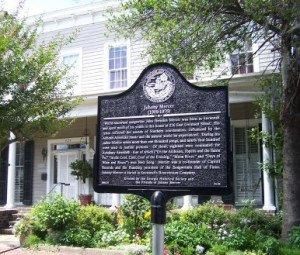 Today's #MarkerMonday is dedicated to music industry icon Johnny Mercer. The Savannah native was born on this week (Nov. 18th) in 1909. Growing up, Mercer was heavily influenced by jazz and African-American musicians like Louis Armstrong and Ma Rainey. In the 1920s he moved to New York to pursue a career in entertainment. He soon found success as a songwriter and is credited for songs cut by Duke Ellington, Billie Holiday, and Hoagy Carmichael.  Mercer later moved to Los Angeles, where he found even greater success. Throughout his career, he penned eighteen songs that were nominated for Academy Awards, ultimately winning four. In 1942 Mercer co-founded Capitol Records, which remains a dominant force in the music industry today. The influence of his Georgia upbringing remained a constant throughout his career.  Georgia officials paid homage to Mercer when they renamed the Back River that flows near Savannah Moon River after one of his Oscar-winning compositions. He passed away in June 1976 after he was diagnosed with brain cancer.
Explore the links below to learn more about Johnny Mercer.
GHS is proud to host primary sources related to Mercer and his music, including select correspondence and sheet music. Discover these documents in our online catalog.