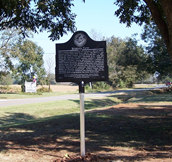 This week's #MarkerMonday highlights the history of Clarence Jordan, founder of Koinonia Farm, and author of the "Cotton Patch" translation of the New Testament. Clarence Jordan and his wife, Florence, founded Koinonia Farm with the mission of a commitment to simplicity, nonviolence, and equality. However, those were not the views of the surrounding community in Sumter County. Jordan was excommunicated from Rehoboth Southern Baptist Church, locals boycotted the farm, and supporting shops were bombed for their affiliation with a group that welcomed racial equality during the Civil Rights Movement. In 1963 Jordan began writing his translation of the New Testament. With the desire to make the New Testament personal, Jordan depicted Pontius Pilate as the Governor of Georgia, Bethlehem became Gainesville, and Biblical lessons were portrayed as present-day Georgian analogies.
In 1981, Jordan's translation was brought to life in the off-Broadway musical, The Cotton Patch Gospel. Music and lyrics were composed by folk singer Harry Chapin. Tom Key co-authored the musical and later wrote about his experience visiting Koinonia Farm in his Foreword for Jordan's Cotton Patch Gospel: Matthew and John.
---
Explore the links below to learn more about Koinonia Farm and the Cotton Patch Gospel.
New York Times 'Stage: Cotton Patch Gospel'
New Georgia Encyclopedia "Cotton Patch Gospel"
New Georgia Encyclopedia "Clarence Jordan"
New Georgia Encyclopedia "Koinonia Farm"
Briars in the Cotton Patch Koinonia Farm Trailer
Linda Fuller Degelmann interview
GHS houses several collections related to Koinonia Farm.
Clarence Jordan: a radical pilgrimage in scorn of the consequences / Frederick L. Downing
Georgia in black and white : explorations in the race relations of a southern state, 1865-1950 / edited by John C. Inscoe
The Georgia Historical Quarterly has published several articles relating to Koinonia Farm which can be accessed on JSTOR. If your library does not have access to JSTOR, you can go to www.jstor.org and create a free MyJSTOR Account.
"A Demonstration Plot for the Kingdom of God": The Establishment and Early Years of Koinonia Farm
The Politics of Industrialization and Interracialism in Sumter County, Georgia: Koinonia Farm in the 1950s