To further explore this year's Georgia History Festival theme, "The United States Constitution: Ensuring Liberty and Justice for All," and in recognition of Black History Month, February's #MarkerMondays discuss amendments and laws within the context of the struggle for human and civil rights in Georgia.
---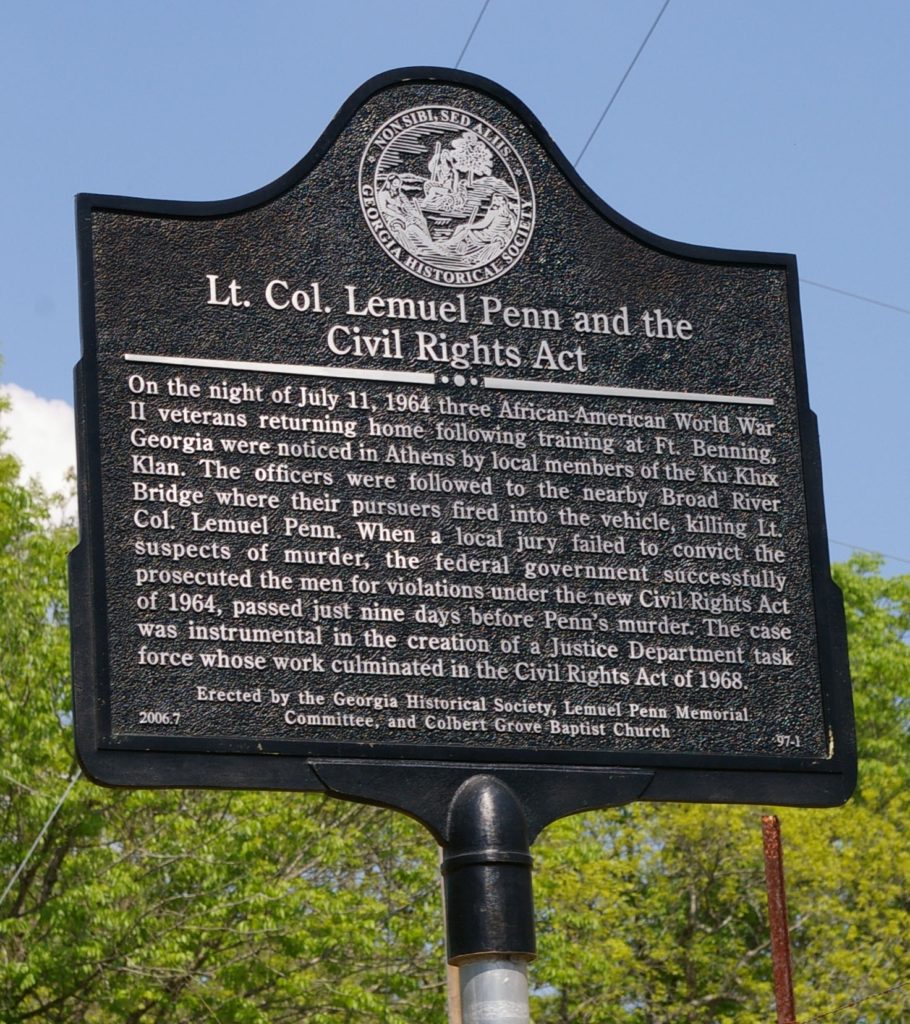 This week's #MarkerMonday discusses the federal prosecution of Ku Klux Klan members Cecil Myers and Howard Sims after the all-white jury at the Madison County Superior Court found them not guilty of the murder of World War II veteran Lemuel Penn. Nine days after the passage of the Civil Rights Act of 1964, on July 11, 1964, the Klansmen murdered Penn after they saw him stop at an Athens gas station as he drove home following reserve training at Fort Benning.  After Myers' and Sims' acquittal, U.S. Attorney Floyd Buford prosecuted them on the basis of the recently enacted federal Civil Rights Act for conspiring to deny the civil rights of others. 
Under Title 18 of the United States Code, Section 241, it is illegal for "two or more persons [to] conspire to injure, oppress, threaten, or intimidate any person […] in the free exercise or enjoyment of any right or privilege secured to him by the Constitution or laws of the United States." Once the Civil Rights Act of 1964 became law, making race-based discrimination in places of public accommodation illegal, U.S. Attorney Buford was able to prosecute Myers and Sims.  He argued that their actions were part of a plot to deny African Americans their civil rights.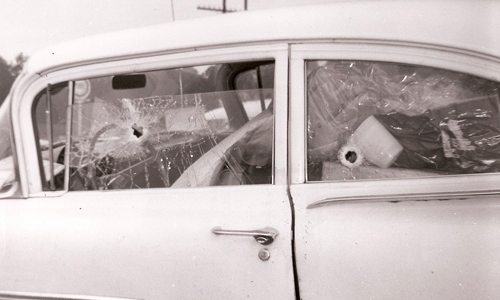 The trial began on June 28, 1966, at the federal courtroom in Athens.  Buford, representing the federal government, detailed Myers' and Sims' slaying of Lemuel Penn as part of a larger conspiracy to keep out-of-state African Americans away from Athens.  He then presented proof of their involvement in the larger Klan practice of terrorizing and intimidating African Americans, and entered into evidence a cache of sawed-off shotguns, chains, and Klan hoods. The trial ended on July 2, 1966, with the jury returning a guilty verdict against both men. Federal District Judge William A. Bootle sentence them to ten years in Federal prison.
This was one of the first Federal trials under the provisions of the Civil Rights Act of 1964. 
---
Explore the links below to learn more about the murder of Lemuel Penn and the trials of Cecil Myers and Howard Sims.
New Georgia Encyclopedia "Lemuel Penn Murder"
Murder at Broad River Bridge: The Slaying of Lemuel Penn by Members of the Ku Klux Klan
Civil Rights Act of 1964: Title II
Title 18 United States Code Section 241
GHS houses collections related to the Ku Klux Klan in Georgia.
Ku Klux Klan of Georgia membership applications and reports, 1947-1948.
Constitution and laws of the Knights of the Ku Klux Klan (incorporated)
For further reading on the struggle for human and civil rights in Athens, the Georgia Historical Quarterly published articles which can be accessed on JSTOR. If your library does not have access to JSTOR, you can go to www.jstor.org and create a free MyJSTOR Account.
Not Another Little Rock: Massive Resistance, Desegregation, and the Athens White Business Establishment, 1960–61[ 
G-Men in Georgia: The FBI and the Segregationist Riot at the University of Georgia, 1961