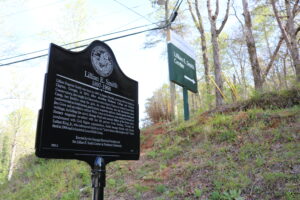 This week's #MarkerMonday examines the Lillian E. Smith (1897-1966) historical marker in Rabun County, the newest Georgia Historical Marker erected as an addition to the Georgia Civil Rights Trail. Lillian E. Smith is recognized for openly challenging Jim Crow laws and acting as a critical White voice on Southern race relations through her writing, publication of literary magazines, and girls camp. Smith took over Laurel Falls Camp for Girls from her father and encouraged campers to question and discuss ideas such as religion, race, segregation, gender roles, and international relations, as a way to better understand and enact behavior changes.
Lillian E. Smith published Strange Fruit in 1944, which told the story of an educated Black woman who has a secret romance with the White son of her small town's doctor. The work was noted for its accurate portrayal of deep-seated racial conflicts in the South, and the title references Billie Holiday's song of the same name about acts of violence and racism against African Americans. In the 1944-1945 Winter issue of South Today, Smith's literary magazine, she shared an article titled, "Author of Strange Fruit Shares Her Mail." The article details how Smith opened the letters from the public with Laurel Falls camp staff which promoted discussions "on the mind of the South and North: on how our fellow-Americans feel about race, love, marriage, their mothers, about God and the church; about honesty and the truth and freedom and hatred and books; about life—and death."
Smith noted that about 95 percent of the letters received were positive and revealed an understanding that the book was not meant to be about race, but was a book about human interaction. The negative letters seemed to come from people who were not ready to face the hurtful truth. She writes, "there are many people who have reached chronological maturity who are too frail psychologically to face adult problems. On these people the book seems to have had blasting effect—we hope not a permanently injurious one." Despite efforts to ban Strange Fruit—and it was banned in Boston until 1990—it became a best seller and was adapted for Broadway.
Although Lillian Smith did not believe in placing conversational barriers between herself and her campers, Strange Fruit was not meant to be a children's book and read by the young campers. Smith's continued writing ultimately led to the closure of Laurel Falls Camp. It is believed that she closed the camp in anticipation of reactions to her second book, Killers of the Dream (1949). However, she hoped that the campers would continue sharing their lessons with future generations.
---
Explore the links below to learn more:
Marker Text
Lillian E. Smith Center Newsletter – A View From the Mountain, Spring 2020
Lillian E. Smith Center – "Letter to Mr. Hartley"
New Georgia Encyclopedia – Lillian E. Smith