During the month of August, cultural institutions throughout Savannah, including the Georgia Historical Society, are highlighting African-American history in our communities by participating in the #LiftEveryVoice program. To complement this program, August's #MarkerMondays highlight prominent sites and people in Georgia's African-American history.
---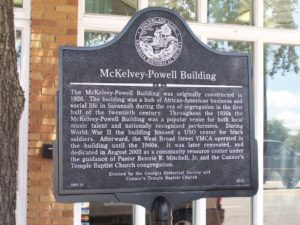 This week's #MarkerMonday highlights the McKelvey-Powell Building in Savannah, Georgia, and its role as a United Service Organization (USO) Center for African-American soldiers during World War II. During the Second World War, Savannah's port and railroad played an important role in the war effort, producing Liberty ships and transporting troops and supplies. Tybee Island also hosted the United States Army at Fort Screven. With so many troops coming to the Savannah-area, the USO set up sites for soldiers while they were in the city. The USO chose the McKelvey-Powell Building (c.1926), located in the African-American business and cultural hub known as the West Broad Street District, as a USO center for African-American soldiers.
While the USO policy expressly forbade discrimination based on race or creed, it was not uncommon for separate USO Centers to exist in the same town. The USO Center at the McKelvey-Powell Building was responsible for organizing entertainment such as music performances or dances and providing African-American soldiers a place to congregate and relax. After the war, the USO was disbanded and centers were closed. The USO regrouped during the Korean War and continues today. In the 1960s, the McKelvey-Powell Building housed the West Broad Street YMCA and was later renovated to serve as a community resource center.
---
Explore the links below to learn more about the McKelvey-Powell Building, the USO, and Georgia during the Second World War.
Opening America's Archives: Georgia History Primary Source Sets
New Georgia Encyclopedia (World War II in Georgia)
New Georgia Encyclopedia (Savannah)
USO: Black History Month and the USO
Canteen Books: Identified WWII USO Canteens
Further Reading
DeLorme, Rita H. "USO in the Savannah-Atlanta Diocese during World War II Aided Soldiers Who "fought a Different Kind of War"." Southern Cross, October 4, 2007, 3. Diocese of Savannah
Related #MarkerMonday Posts
S.S. James Oglethorpe and the Battle of the Atlantic (Posted November 20, 2017)
WWII Rescue Boat Station (Posted August 14, 2017)
The First Black Graduate of West Point (Posted March 20, 2017)