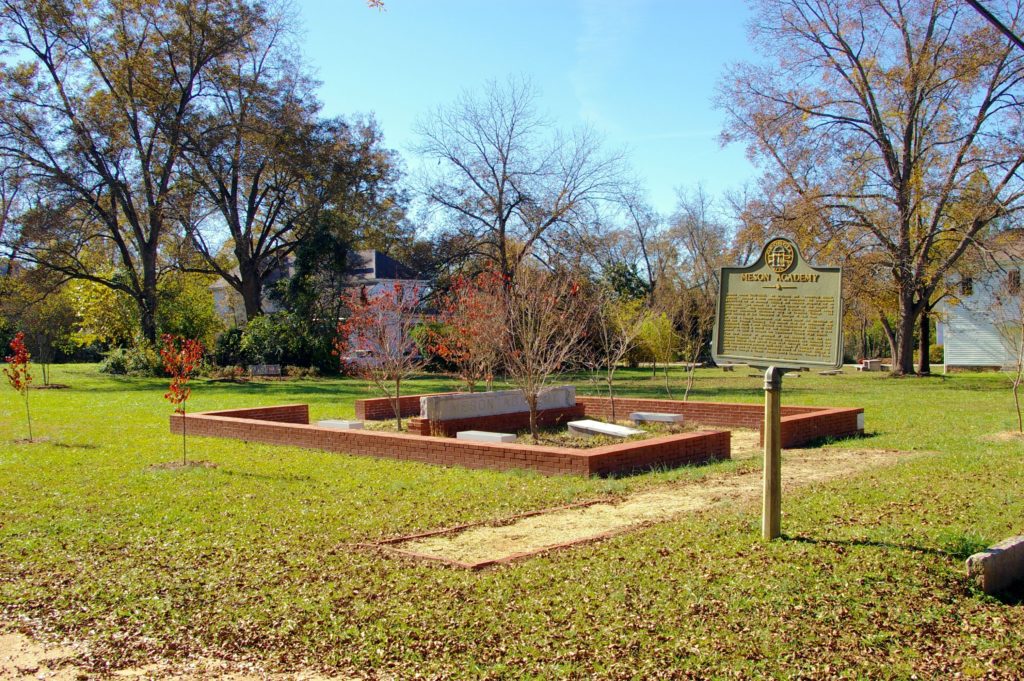 This week's #MarkerMonday looks at the Meson Academy historical marker in Oglethorpe County. The Meson Academy originally opened as a boys' school in 1808 with funds left by Francis Meson, an Irish immigrant who became a wealthy merchant in Lexington, Georgia. He and other tradesmen took advantage of Lexington's location on the route to Augusta to make profits. Upon his death, he left the executors of his will $8,000 for a new school. Over half of the money remained after building the school, but it was placed in an endowment, "to be used forever for the benefit of the teachers."
Prior to the death of Francis Meson in 1806, Oglethorpe County's academy commissioners had been organized to oversee education in Oglethorpe County. Their purpose was to hire the school's rector, oversee operations, and secure and maintain funding. Considering Meson's donation, they petitioned the state legislature to allow them to name the new Academy in his honor. This request was permitted in hopes that more donors would come forward.
Shortly after Meson Academy opened, the people of Oglethorpe County pushed to have a school for girls. To meet this need, another school for girls and boys younger than 14 opened for a short time in 1810. In 1825, the "Female Academy" was added to Meson Academy. This addition inspired more donations to the academy from local citizens. A year after girls were admitted, Meson Academy's Trustees noted that they "cannot forbear to express the pleasure we experienced in witnessing the facility with which the Female Pupils operated in Arithmetic, a branch too much neglected in female instruction," in the Milledgeville newspaper The Georgia Journal. In 1917, Lexington voted for a school tax and Meson Academy became a free school. In 1920 it became Oglethorpe County High School.
---
Explore the links below to learn more:
The Georgia Journal. (Milledgeville, Ga.) 1809-1847, July 25, 1826, Image 1
New Georgia Encyclopedia—Lexington
The Georgia Historical Quarterly has published an article relating to the Meson Academy which can be accessed on JSTOR. If your library does not have access to JSTOR, you can go to www.jstor.org and create a free MyJSTOR Account.