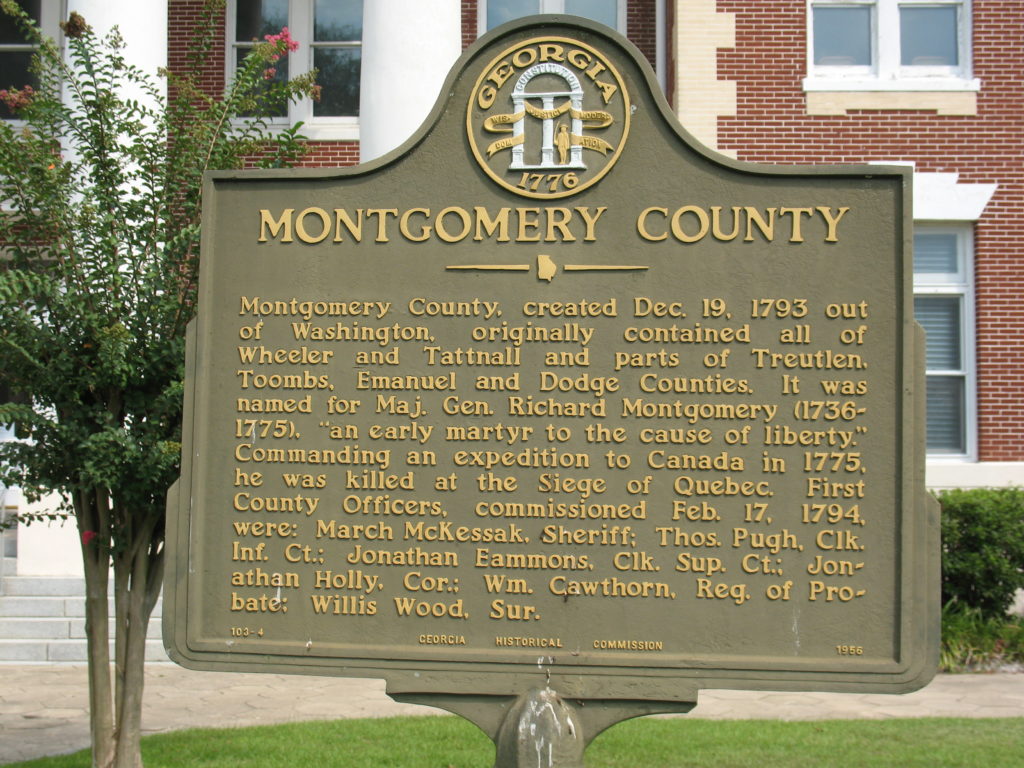 This week's #MarkerMonday looks at the Montgomery County historical marker and its namesake. Montgomery County was originally made up of present-day Wheeler and Tattnall counties and parts of Treutlen, Toombs, Emanuel and Dodge counties when it was created on December 19, 1793. Named after Major General Richard Montgomery, the county was settled primarily by former Revolutionary War veterans who received land grants.
Montgomery served in the British Army in the French and Indian War, in both Canada and the Caribbean, before returning to England in 1764. During his time in England, he began to resent British policies in America and aligned himself with the Whig party. A few years later, he returned to America and moved to New York in 1772. Appreciating his support for the colonies, his neighbors elected Montgomery to represent Dutchess County in the New York Provincial Congress (1775). Soon after, the Provincial Congress appointed him to Brigadier General, serving under Major General Philip Schuyler.
The two were given orders to invade Canada, but Schuyler became sick and Montgomery took charge of the campaign. He trained his men with the discipline and regimen that he had learned in the British Army. As he made his way to Quebec City, he met with Benedict Arnold and the two worked together to attack Quebec. On December 31, 1775, Montgomery, who was not aware he had been appointed to Major General a few weeks before, led the charge at the gates of Quebec City and was shot and killed at point blank range.
---
Explore the links below to learn more:
New Georgia Encyclopedia – Montgomery County
American Battlefield Trust – Major General Richard Montgomery
National Museum of the United States Army – Major General Richard Montgomery