During the month of August, cultural institutions throughout Savannah, including the Georgia Historical Society, are highlighting African-American history in our communities by participating in the #LiftEveryVoice program. To complement this program, August's #MarkerMondays highlight prominent sites and people in Georgia's African-American history.
---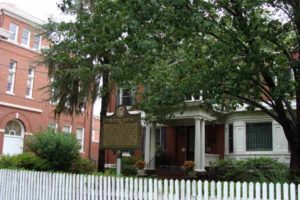 This week's #MarkerMonday highlights Georgia's first African-American nun, Mother Mathilda Beasley. Born Mathilda (also spelled Matilda) Taylor in 1834 in New Orleans, Louisiana, not much is known of Mathilda's early life. Born to an enslaved mother named Caroline, historians believe that her father was a Native American. It is speculated that Beasley became an orphan at an early age and the circumstances by which she gained her freedom are unclear. By the 1850s, records indicate that Beasley was living in Savannah, Georgia, as part of the city's freed African-American population. Once in Savannah, Beasley found work as a seamstress. She was also a waitress in a restaurant owned by Abraham Beasley, a free man of color whom she would later marry. When Beasley was not working, she ran a secret school in her home for enslaved and free African-American children. While illegal to educate slaves in Georgia at the time, the education of these children was an open secret in Savannah. Records indicate that at least six or seven secret schools existed in Savannah in the 1850s and 60s.
After the death of her husband in 1877, Beasley gave her entire inheritance to the Roman Catholic Church, and she requested that part of the funds be used for a home for African-American orphans, later named St. Francis Home for Colored Orphans. In 1885, she journeyed to York in Great Britain to pursue holy orders as a nun in a Franciscan novitiate. Beasley returned to Savannah in the late 1880s, forming the first community of African-American nuns in Georgia and became known as Mother Mathilda. Under her leadership, the community, associated with the Third Order of St. Francis, lived and worked at the orphanage educating and caring for the orphans. Beasley received money from the Catholic Church to support the orphanage. With the arrival of additional nuns to Savannah in the early 1900s to assist with the running of the orphanage, Beasley was able to move out of the orphanage and in to a small cottage on Price St. In December 1903, Beasley was found dead in the cottage's private chapel. Located next to her were her burial clothes, her will, and instructions for her funeral. She is buried in Savannah's Catholic Cemetery.
---
Explore the links below to learn more about Mother Mathilda Beasley.
GHS is proud to house the Walter Charlton Hartridge, Jr. Collection containing his research and writings about Georgia's Catholics, including his notes on Mother Mathilda Beasley and the St. France Home for Colored Orphans.
Mother Mathilda Beasley was the Featured Historical Feature for the 2005 Georgia History Festival. Check out GHS' online learning materials such as the Mother Mathilda Beasley Teacher Guide and Feature Historical Figure Profile.
MyAJC: Mother Mathilda Beasley: The mystery of Georgia's first black nun
BlackPast.org: Beasley, Mother Mathilda (1832-1903)
GPB.org: Forgotten Women Part 10: Mother Mathilda Beasley
Sacred Heart Catholic Church: About Our Parish (built in part with funds from Mathilda Beasley's contribution to the Roman Catholic Church)
Further Reading
Wells-Bacon, Mary. The Life of Mathilda Beasley. Savannah Biographies Volume 15, Special Collections, Lane Library, Armstrong Atlantic University (Georgia Southern University: Armstrong Campus). Savannah, GA, 1987.
Related #MarkerMonday Posts
Savannah's African American Medical Pioneers (Posted Dec. 4, 2017)