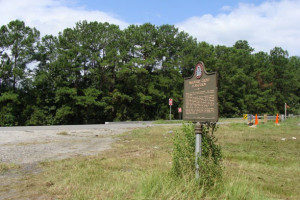 This week's #MarkerMonday highlights Mulberry Grove plantation, situated a few miles south of present day Port Wentworth, Georgia, and its early colonial history. To ensure the safety and protection of his new colony, Oglethorpe designated a military outpost a few miles outside of Savannah, called Joseph's Town. The outpost was once home to the Scottish Highlanders who came to Georgia in 1735 on their ship, Prince of Wales. Part of the original acreage of Joseph's Town became the site of Mulberry Grove Plantation in the late 1730s. Mulberry trees were cultivated at Mulberry Grove Plantation for use in Georgia's silk industry, giving the site its name.  Once the Georgia Trustees' original ban on slavery in Georgia was lifted in 1750, Mulberry Grove planters began to focus intensely on rice production. In 1774, Mulberry Grove was purchase by John Graham, Royal Lieutenant Governor of Georgia. Graham purchased additional land surrounding the plantation and to expand rice production, greatly increasing the number of slaves living and working at Mulberry Grove.
When the American Revolution began, John Graham remained loyal to the Crown and was forced to flee Mulberry Grove when it was confiscated by patriot forces. Following the war, Graham and his family returned to Great Britain. In 1789, he filed a claim with the British Government to recover his losses sustained during the war in Savannah. Mulberry Grove was not returned to Graham after the war but was instead granted to American Major General Nathanael Greene by the State of Georgia for his military services.  Today, the land where Mulberry Grove was situated is owned by the Georgia Ports Authority.
---
Explore the links below to learn more about Mulberry Grove Plantation, Lieutenant Government John Graham, and Georgia's colonial history.
GHS is proud to house a transcript of John Graham's claim to the British Government to recover his losses, a letter from John Graham to British Colonel James Grierson, and two releases of land from John Graham to Pierce Butler for land on St. Simons Island.
Hidden Histories: Mulberry Grove
New Georgia Encyclopedia: Agriculture in Georgia, Overview
Mulberry Grove Foundation, Inc.
AJC.com: How Should Mulberry Grove be remembered?
Savannah Morning News: Georgia Ports moves to develop Mulberry Grove, Drakies uplands
Savannah Morning News: Two prominent Savannah River plantations share common heritage and classic oak-lined avenue
Vanishing Coastal Georgia: Colonial Park Cemetery, Savannah
Geneology.com: RE: Royal Lt Governor John Graham, Georgia
Further Reading
Coleman, Kenneth. Georgia History in Outline. Athens, GA: University of Georgia Press, 1978.
Heath Barrow, "Joseph's Town and Its Plantations in Colonial Georgia," Armstrong Undergraduate Journal of History 3, no. 2 (April, 2013).
The Georgia Historical Quarterly has published several articles related to Mulberry Grove, John Graham, and the American Revolution in Georgia which can be accessed on JSTOR. If your library does not have access to JSTOR, you can go to www.jstor.org and create a free MyJSTOR Account.
Related Marker Monday Posts
Marker Monday: The Trustees Garden (Posted September 19, 2016)
Marker Monday: Nathanael Greene Monument (Posted August 7, 2017)
Marker Monday: Johnson Square (Posted February 26, 2018)