This week's #MarkerMonday explores the history of Nacoochee Valley: Valley of the Evening Star. After the start of the Georgia gold rush in 1828, Georgians hoped to be chosen in the land lottery, giving them a chance to pan for wealth in the North Georgia mountains, where the Valley is located. In 1834, while digging a canal to wash the mined gold, miners discovered a row of houses beneath the surface of the Nacoochee Valley. On June 21, 1834, The Southern Banner, a popular newspaper in Athens, published a letter reporting the discovery of partially decayed "cabins" about eight feet underground. Each cabin was connected, so they appeared to be a series of 34 rooms about 300 feet long.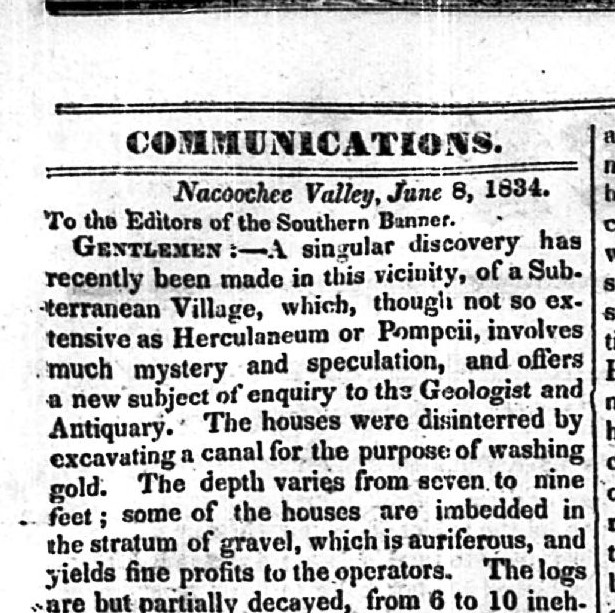 Despite these findings and many other rumors about the Valley's previous occupants (possibly Spanish, French, or Native), it was not until 1915 that the discovery of the cabins led archaeologists to investigate the nearby burial mound located in the Valley. The excavation was sponsored by the Museum of the American Indian, the Heye Foundation, and the Bureau of American Ethnology, now all part of the Smithsonian Institution. The Nacoochee Burial Mound is thought to be a center of life for the surrounding village. Their findings of 75 human remains proved that the area was occupied during the Lamar Period (1350-1600) and seventeenth-century European artifacts buried within the mounds provided evidence for European contact.

In 2004, the LAMAR Institute, in conjunction with the Department of Anthropology at the University of Georgia, revisited the excavation, concluding that the village is most likely preserved and located to the west side of the mound. LAMAR believes that future excavations of the village will help to create a timeline of the many people who have occupied the Valley. Today, a reconstruction of the Nacoochee Mound stands at the site.

---
Explore the links below to learn more about the Nacoochee Valley.

New Georgia Encyclopedia "Nacoochee Mound"
New Georgia Encyclopedia "Lamar Period"
New Georgia Encyclopedia "Land Lottery System"
"Nacoochee Revisited" by Mark Williams, 2004
GHS houses a collection of items relating to the Nacoochee Valley.
Research materials on various Georgia locations, 1997-2001.
The Georgia Historical Quarterly has published several articles relating to the Nacoochee Valley which can be accessed on JSTOR. If your library does not have access to JSTOR, you can go to www.jstor.org and create a free MyJSTOR Account.
The Spaniards in Northern Georgia During the Sixteenth Century
Georgia's Forgotten Miners: African-Americans and the Georgia Gold Rush