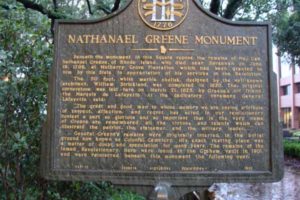 This week's #MarkerMonday highlights General Nathanael Greene, general in the Continental Army during the American Revolution.  Greene was born in Rhode Island on August 7, 1742, and raised as a Quaker, a religious group that practices pacifism. In 1770, Greene was elected to the Rhode Island legislature, liked by many for his sound reasoning and dependability, and became an advocate for American independence from Great Britain. As the possibility of war with Great Britain increased, Greene helped to organize a militia unit in Rhode Island in October 1774, which caused the pacifist Quaker community to shun him. Placing his religious beliefs aside, Greene served as a private in the Rhode Island Militia and rose to brigadier general in the Continental Army.
His actions in the 1776 Siege of Boston so impressed General George Washington that Greene was given command of Boston after the British evacuated the city. Greene went on to fight at the Battles of Trenton, Brandywine, and Germantown. He also held the position of quartermaster general to the army at Valley Forge, Pennsylvania. In 1780, the British controlled most of the South. Greene was tasked with leading the Patriot Army against the British led by General Charles Cornwallis. Under Greene's leadership, Patriot forces began to regain control of the South and reduced the hold of the British Army.  By directing General "Mad" Anthony Wayne's campaign in Georgia, Greene's efforts resulted in the end of British rule. He also sent an army under the command of Colonel Henry "Light-Horse Harry" Lee to aid revolutionaries in Georgia. After the American Revolution, Mulberry Grove, a confiscated loyalist plantation, was granted to Greene by the State of Georgia for his military services. To further show appreciation to Gen. Greene, Greene County was created on February 3, 1786 in his honor. In June of that same year he passed away after suffering a heatstroke and was buried in Savannah's Colonial Park Cemetery. In 1902, he was reinterred in Savannah's Johnson Square under a monument erected in his honor.
Top Image taken from larger image of Nathanael Greene Monument in Johnson Square looking North ca 1930. Image Courtesy of the Georgia Historical Society, Edward Girard Photographs Collection, MS 1374-01-40-02.
---
Explore the links below to learn more about General Nathanael Greene.
GHS is proud to house two of Nathanael Greene's letters from 1781-1782. GHS also has items in its collection relating to the Nathanael Greene Monument, such as the monument committee's records and a photograph of the monument from 1928. These and other collection items related to Nathanael Greene can be referenced by searching the online collection.
Nathanael Greene was also one of GHS' featured historical features. To learn, visit GHS' online materials related to his life.
Mulberry Grove Plantation Historical Marker Text
Greene County Historical Marker
New Georgia Encyclopedia (Nathanael Greene)
New Georgia Encyclopedia (Revolutionary War in Georgia)
Ushistory.org: General Nathanael Greene
Encyclopedia Britannica: Nathanael Greene
Further Reading
Carbone, Gerald M. Nathanael Greene: A Biography of the American Revolution. New York: Palgrave Macmillan, 2008.
Elswyth Thane, The Fighting Quaker: Nathanael Greene (Mattituck, N.Y.: Aeonian Press, 1972).
Spencer C. Tucker, Rise and Fight Again: The Life of Nathanael Greene (Wilmington, Del.: ISI Books, 2009).
The Papers of General Nathanael Greene, ed. Richard K. Showman and Dennis M. Conrad (Chapel Hill: University of North Carolina Press for the Rhode Island Historical Society, 1976).
William C. Kashatus III, Conflict of Conviction: A Reappraisal of Quaker Involvement in the American Revolution (Lanham: University Press of America, 1990).
The Georgia Historical Quarterly has published an article about Nathanael Greene which can be accessed on JSTOR. If your library does not have access to JSTOR, you can go to www.jstor.org and create a free MyJSTOR Account.
Related Marker Monday Posts
George Washington's Southern Tour (May 15, 2017)