In anticipation of Super Museum Sunday on February 11, 2018, this month's #MarkerMonday posts will explore the history of sites participating in the state-wide event.
---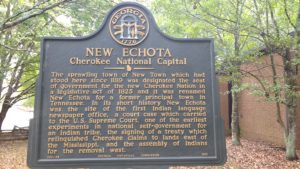 This week's #MarkerMonday highlights New Echota, the capital of the Cherokee Nation prior to the removal of the Cherokee west of the Mississippi River. Following a legislative act by the Cherokee Nation in 1825, the Nation's capital was established at the headwaters of the Oostanaula River, near modern day Calhoun. The capital served as a gathering place for Cherokee Council meetings and social gatherings. New Echota was the site of many milestones and tragedies for the Cherokee Nation. Following the creation of the written form of Cherokee language, known as the Cherokee syllabary, the first Indian language newspaper office was built in New Echota to produce the Cherokee newspaper, The Cherokee Phoenix.
New Echota also provided the backdrop for the Cherokee Nation's struggle to maintain its sovereignty. In 1827, the Cherokee established a constitutional government. Later, in 1832, the U.S. Supreme Court ruled in the case of Worcester v. Georgia that the Cherokee had their own form of national sovereignty and, as a nation, the United States had no authority over the affairs of the Cherokee or other American Indians. The State of Georgia ignored the Supreme Court's ruling on the case and continued to press the federal government for the removal of the Cherokee Nation from the state. In 1835, New Echota was the site of the signing of the Treaty of New Echota, leading to the relinquishment of Cherokee lands east of the Mississippi River to the U.S. government and the removal of the Cherokee to the west.
---
Explore the links below to learn more about New Echota and the Cherokee Nation.
GHS is proud to house several  and collection of Cherokee Indian Relocation Papers and Cherokee Ration Books from 1836,1837, and 1838 issued in New Echota.
Sequoyah was one of the Georgia History Festival's  Featured Historical Figures in 2017. Follow the link to view educational materials related to his life and the creation of the  Cherokee Syllabary.
New Echota State Historic Site is a participating site in the 2018 Super Museum Sunday. For more information, visit the http://georgiahistoryfestival.org/.
Today in Georgia History Video
New Georgia Encyclopedia-Gordon County
New Georgia Encyclopedia-Cherokee Indians
New Georgia Encyclopedia- Worcester v. Georgia (1832)
New Georgia Encyclopedia- Cherokee Phoenix
The Cherokee Nation: New Echota
About North Georgia: New Echota State Historic Site
Further Reading
The Georgia Historical Quarterly has published several articles related to New Echota and the removal of the Cherokee on the Trail of Tears which can be accessed on JSTOR. If your library does not have access to JSTOR, you can go to www.jstor.org and create a free MyJSTOR Account.