In honor of the 2016-2017 Georgia History Festival, "A State of Innovation," the November #MarkerMonday posts will focus on Sequoyah, the creation of the Cherokee alphabet, and the Cherokee Nation. Over the course of the month, these posts will discuss Sequoyah, his efforts to create a written alphabet for the Cherokee Nation, and the forced removal of the Cherokee from Georgia along the Trail of Tears.
---
T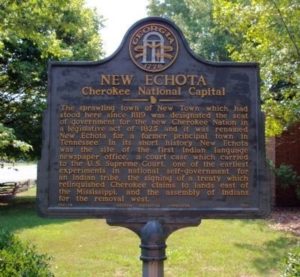 his week's #MarkerMonday highlights New Echota, the capital of the Cherokee Nation prior to the removal of the Cherokee west of the Mississippi River. Following a legislative act by the Cherokee Nation in 1825, the nation's capital was established at the headwaters of the Oostanaula River, near modern day Calhoun. In its short history as the capital, New Echota was the site of many milestones and tragedies for the Cherokee Nation.
After Sequoyah created the Cherokee language syllabary, the written language form for American Indians, the first Indian language newspaper office was built in New Echota for the newspaper, The Cherokee Phoenix. With Sequoyah's invention of the syllabary, the Cherokee also drafted and adopted a written constitution, which was designed to solidify the tribe's sovereignty, resist white encroachment and removal, and to counter existing stereotypes of American Indians as savages. New Echota also provided the backdrop for the Cherokee Nation's struggle to maintain its sovereignty. In 1832, the US Supreme Court ruled that the Cherokee had their own form of national sovereignty and, as a nation, the United States had no authority over the affairs of the Cherokee or other American Indians. Three years later, New Echota was the site of the signing of the Treaty of New Echota, leading to the relinquishment of Cherokee lands east of the Mississippi River to the US government and the removal of the Cherokee to the west.  Today, the New Echota Historic Site features original and reconstructed Cherokee town buildings- including the print shop, the Council House, and courthouse.
Top Image Details from map of Georgia for Sherwood's Gazetteer of Georgia, ca.1830. Courtesy of the Georgia Historical Society Map Collection, MS 1361-MP 079.
---
Explore the links below to learn more about New Echota, Sequoyah, and the Cherokee Nation.
GHS is proud to house several Cherokee Rations Books from 1836,1837, and 1838 issued in New Echota.
Sequoyah is one of GHS' Featured Historical Figure for the 2016-2017 Georgia History Festival. Check out the GHS' online learning materials.
Today in Georgia History Video
New Georgia Encyclopedia-Gordon County
New Georgia Encyclopedia-Cherokee Indians
New Georgia Encyclopedia-Sequoyah
The Sequoyah Birthplace Museum
*Originally published November 7, 2016.