In anticipation of Super Museum Sunday on February 11, 2018, this month's #MarkerMonday posts will explore the history of sites participating in the state-wide event.
---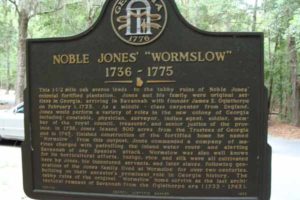 This week's #MarkerMonday highlights Wormsloe, the oldest of Georgia's tidewater estates. Since the establishment of the plantation in 1730s, some portion of the original Wormsloe property has remained in the hands of Jones' descendants. Noble Jones, a friend of James Oglethorpe, was born in Lambeth, England in 1701 and one of the first settlers to come to Georgia in 1733.  Jones served in a variety of roles for the young colony, including carpenter, physician, surveyor, soldier, member of the royal council, and justice of the province. James Oglethorpe also appointed Jones, "Agent for the Indians," and asked him to work as an agent for Yamacraw Chieftain Tomochichi.
As settlers could not purchase land in the colony, Jones leased 500 acres of land from the Georgia Trustees in 1736. Located roughly ten miles southeast Savannah, Jones completed construction on his fortified tabby home, Wormsloe (originally spelled "Wormslow") in 1745. The fortified house was used as an outpost for a company of marines commanded by Jones, to patrol Savannah's outer defenses in case of an attack from the Spanish. During the War of Jenkins' Ear (1739-1748), Jones aided Oglethorpe during the British siege of St. Augustine. Jones and his scouts provided key intelligence to Oglethorpe to defeat the Spanish on St. Simons Island at the Battle of Bloody Marsh. In 1756, King George II formally granted Jones the ownership of Wormsloe. During the 1750s, Jones oversaw the cultivation rice, indigo, and silk at Wormsloe Plantation. Throughout the Trustees Period of Georgia's history (1732-1752) and after Oglethorpe's departure to Great Britain, Jones was a constant supporter of the King and held several offices in the colony. This placed him in opposition to his son, Noble Wymberly Jones, who supported the patriot cause during the American Revolution.  When Jones died in 1775, Wormsloe passed first to his daughter, Mary, and later to his son, Noble Wymberly Jones.
---
Explore the links below to learn more about Wormsloe, Noble Jones, and his descendants.
GHS is proud to house the Jones Family Papers and the Court of Savannah, Grand Jury Records, in which people brought a list of grievances to Thomas Causton and Nobel Jones about a number of issues in early Savannah's history.
Wormsloe State Historic Site is a participating site in the 2018 Super Museum Sunday. For more information, visit the http://georgiahistoryfestival.org/.
New Georgia Encyclopedia (Wormsloe Plantation)
New Georgia Encyclopedia (De Renne Family)
C-SPAN: Wormsloe and Noble Jones Video
American National Biography: Noble Jones
Further Reading
Coulter, E. Merton. Wormsloe: Two Centuries of a Georgia family. Athens, GA: University of Georgia Press, 1955.
Northen, William L., L.L.D., ed. Men of Mark in Georgia: A Complete and Elaborate History of the Sate from its settlement to the present time, chiefly told in biographies and autobiographies of the most eminent men of each period of Georgia's progress and development. Vol. 1. 6 vols. Atlanta, GA: A.B. Caldwell Publisher, 1907.
The Georgia Historical Quarterly has published several articles related to Wormsloe, Noble Jones and his descendants, and colonial history in Georgia which can be accessed on JSTOR. If your library does not have access to JSTOR, you can go to www.jstor.org and create a free MyJSTOR Account.
Related Marker Monday Posts
Marker Monday: The Landing of Oglethorpe and the Colonists (September 12, 2016)
Marker Monday: Congregation Mickve Israel (February 13, 2017)
Marker Monday: Old Ebenezer (February 20, 2017)
Marker Monday: Rev. Mr. John Osgood (May 1, 2017)
Marker Monday: George Whitefield (May 8, 2017)
Marker Monday: Oglethorpe Meets the Indians at Coweta (August 21, 2017)