---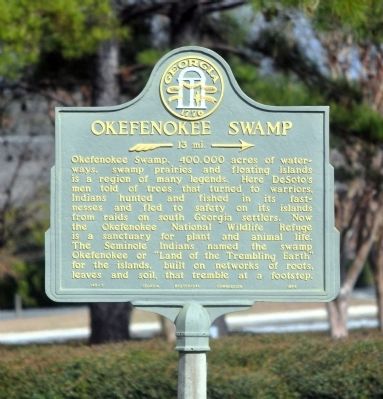 This week's #MarkerMonday highlights the Okefenokee Swamp, and how the swamp's reputation of being dangerous and mysterious facilitated its' historical use and representation in literature as a refuge. The Okefenokee Swamp, called the "Land of the Trembling Earth," is geologically about 10,000 years old. Its oldest inhabitants were the Native Americans who occupied the area during the late Archaic, Woodland, and Mississippian periods of prehistory. Boasting a unique ecosystem that is geographically isolated, the swamp became a place of mystique in lore and image. Naturalist William Bartram's Travels published in 1791, relates a Creek tale he heard in the 1770s of an immortal race of Indians "whose women are incomparably beautiful" and an "inchanted [sic] land" of "perpetual labyrinths" that men got lost in. Bartram speculates, that these legendary people, who had left signs of inhabitance around the swamp, were Yamases in hiding who escaped the conflict with the Creek nation that nearly exterminated their people.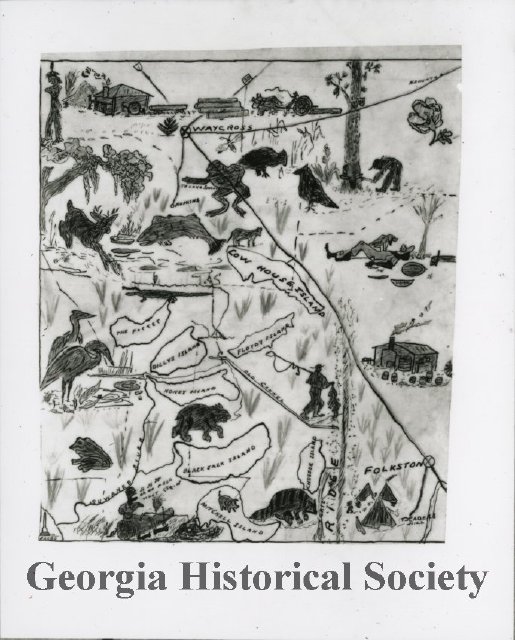 Vereen Bell's book (1941) and the subsequent movie (1942), Swamp Water, set in the Okefenokee Swamp and surrounding area, reinforces the swamp's mythical image while portraying it as a refuge for another kind of fugitive: one of the film's supporting characters, Tom Keefer, who was falsely accused of theft and murder. The movie's introduction describes the Okefenokee as a place where men feared "the unexplored vastness in which a man might disappear." The swamp's reputation of perilousness dissuaded many from penetrating the inner islands and lakes.
Interestingly, these tales reflect a larger truth about the swamp: throughout its history, the mysterious nature of the Okefenokee furthered its use as a refuge. This was especially true throughout the 1800s when, leading up to and during the Seminole wars, Native Americans sheltered there, melting away into the swamp or hiding undetected when pursued. Escaped slaves also hid there, and during the Civil War, deserters banded together on the swamp's islands.
---
Explore the links below to learn more about the Okefenokee Swamp.
New Georgia Encyclopedia "Okefenokee Swamp Folklore"
New Georgia Encyclopedia "Human History of the Okefenokee Swamp"
New Georgia Encyclopedia "Swamp Water"
Documenting the American South "Travels by William Bartram"
GHS houses several collections related to the Okefenokee Swamp.
Report upon the survey of the Okefenokee Swamp.
Okefinokee album / Francis Harper & Delma E. Presley.
The Georgia Historical Quarterly published articles related to the Okefenokee Swamp which can be accessed on JSTOR. If your library does not have access to JSTOR, you can go to www.jstor.org and create a free MyJSTOR Account.
Reflections in Black Water: Wilderness Images of the Okefenokee Swamp
The Okefenokee Swamp, Its History And Legends
The Okefenokee Swamp: Its History and Legends, Part II
Related historical markers.
Okefenokee Swamp (Charlton County)
Okefenokee Swamp (Clinch County)
Racepond named for "Race Pond"