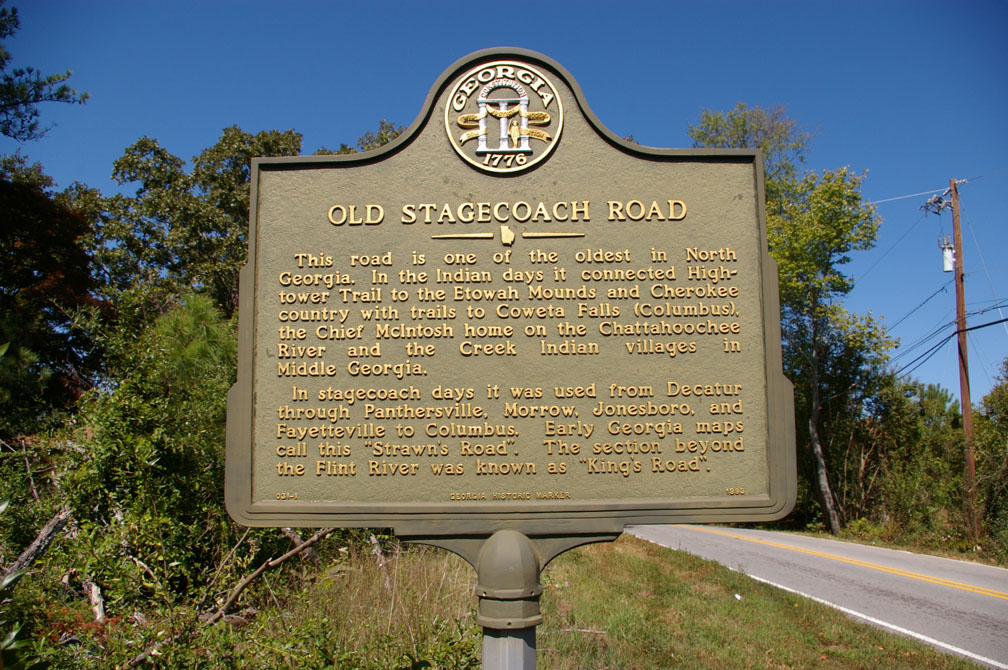 This week's #MarkerMonday looks at the Old Stagecoach Road historical marker in Clayton County and explores the history of stagecoach travel. Prior to its development as a stagecoach road, the trail was used by Native Americans to travel throughout western Georgia. It was later used to travel from Decatur to Panthersville, Morrow, Jonesboro, and Fayetteville to Columbus. Public stagecoach travel in America began in the early 1700s in New England, and an unsuccessful attempt to bring stagecoach routes to Georgia began in 1786.
Nathaniel Twinning failed at his first attempt to operate the first stagecoach line in Georgia from Savannah to Augusta in 1786. He succeeded at a second attempt in 1796. This line began in Augusta on Wednesday, April 20, 1796, and was expected to arrive in Savannah on Friday night, before returning to Augusta on Sunday morning. The trip cost eight dollars each way, more than two-hundred dollars in today's currency.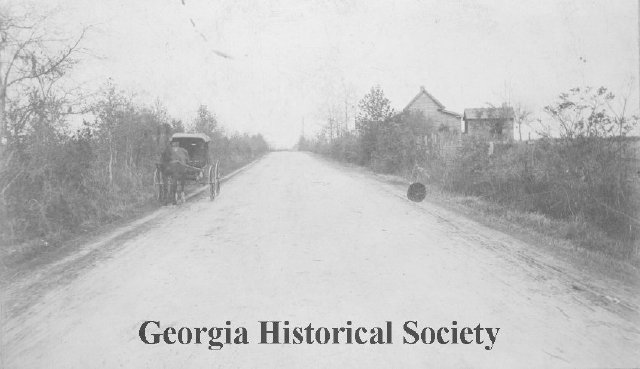 Before the operation of public stagecoach lines, Georgians traveled by rivers, on horseback, or by foot. Although some wealthier Georgians owned private coaches, while on public lines they often traveled next to Georgians of all backgrounds. Generally, there was no discrimination based on race, social status, or gender in stagecoach travel, and no one received special treatment as they endured the rough conditions. Coaches were filled with as many people as they could carry and slowly made their way across Georgia's dirt roads. Along their journey, travelers stopped overnight at inns and public houses, which were often just as unsuitable as the uncomfortable coach. Stagecoaches were a primary method of travel to and from large cities, with thirteen principle routes in Georgia and many more shorter routes during the height of stagecoach travel. Even after the development of passenger trains, coaches remained a supplemental travel method between towns with and without stations.
---
Explore the links below to learn more:
Columbian museum & Savannah advertiser. volume (Savannah [Ga.]) 1796-181?, April 19, 1796, Image 3
Columbian museum & Savannah advertiser. volume (Savannah [Ga.]) 1796-181?, May 24, 1796, Image 1
Georgia; comprising sketches of counties, towns, events, institutions, and persons, arranged in cyclopedic form
GHS houses several collections related to stagecoach travel:
Ogeechee Road 3'18 miles looking south, 1899. From the Georgia Historical Society Collection of Photographs, 1870-1960, MS 1361-PH.
Richard J. Adams letters and receipt, MS 1, Georgia Historical Society.
William Hughes and Horace Bertrand Folsom family papers, MS 406, Georgia Historical Society.
The Georgia Historical Quarterly has published several articles relating to stagecoach travel which can be accessed on JSTOR. If your library does not have access to JSTOR, you can go to www.jstor.org and create a free MyJSTOR Account.
Travel in Ante-Bellum Georgia as Recorded by English Visitors
Stagecoaches and Public Accommodations In Antebellum Georgia