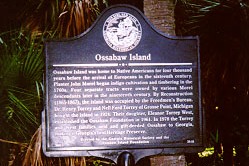 This week's #MarkerMonday highlights Ossabaw Island, Georgia's third-largest barrier island, which lies twenty miles south of Savannah.
The known history of Ossabaw Island dates back farther than that of most of mainland Georgia, due to the plethora of archaeological remnants from centuries past. Some artifacts found on Ossabaw indicate human habitation there as early as 2000 B.C.
Since Europeans arrived in the sixteenth century, the island has gone through several distinct phases, in both ownership and purpose. In the eighteenth century, planter John Morel began timbering and cultivating indigo on the island. The island was subsequently divided up among Morel's heirs into three separate plantations: North End, Middle Place and South End.
After the Civil War, the island began to assume another purpose, becoming occupied by the Freedmen's Bureau, an agency established by Congress in 1865 to assist freed slaves following the Civil War. The Freedmen's Bureau was a significant federal agency during Reconstruction as it helped former slaves in southern states adjust to their newfound freedom by assisting with food, housing, education, health care, and employment. The agency indicated in an 1865 report that there were 78 freedmen living on Ossabaw at that time. In 1867, the Bureau ceased operations on Ossabaw and the plantations were returned to their owners.
In 1924, Dr. Henry Torrey and Nell Ford Torrey of Grosse Point, Michigan purchased the island. Their daughter, Eleanor Torrey West, established the non-profit Ossabaw Foundation in 1961. In 1978, the Torrey and West families sold and gift-deeded Ossabaw to the State of Georgia, making it Georgia's first Heritage Preserve. It is now required by the Georgia Department of Natural Resources to be used for "natural, scientific and cultural study, research and education, and environmentally sound preservation, conservation and management of the Island's ecosystem."
---
Explore the links below to learn more about Ossabaw Island.
GHS is proud to house the Ossabaw Island and Torrey family papers, 1699-2007 collection, with the bulk of the collection containing Ossabaw Island Foundation records. GHS also has a copy of The Story of Ossabaw by H.N. Torrey available for research in its main collection.
Hidden Histories: Ossabaw Island
New Georgia Encyclopedia (Ossabaw Island)
Interpreting African American Life on Ossabaw Island – Georgia Department of Natural Resources Report