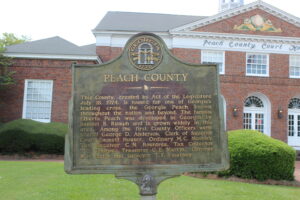 To further examine this year's Georgia History Festival theme, "From Marshes to Mountains, Georgia's Changing Landscape: Geography, History, and Community," this week's #MarkerMonday examines the Peach County historical marker. Created by an act of the Legislature on July 18, 1924, Peach County was named for one of Georgia's leading crops, the Georgia peach. Although peaches only make up a small portion of Georgia's agricultural economy, in 1995 Georgia officially became the Peach State because of "their superior flavor, texture, appearance and nutritious qualities," according to the Office of the Secretary of State.
Peaches originated in China, where they have been cultivated for thousands of years. The fruit made its way westward through western Asia and into Europe. Spanish explorers are credited with first introducing peaches to the Americas during the early 16th century, and it is believed they were introduced to Coastal Georgia  by Franciscan Monks. Peach pits were easy to transport and grew well in Georgia's climate but peaches themselves could not be immediately commercialized because their fragility makes them easily bruised.
The crop was not successfully shipped and sold outside of the South until the 1850s, when Raphael Moses began experimenting with transporting peaches grown on his plantation in Columbus. Moses used champagne crates to package peaches for shipment by train. Compared to the previous method of shipping peaches in pulverized charcoal, the champagne crates allowed for more stability and better preservation. Following Moses's success transporting peaches, Georgia saw an increase in attempts to grow and revolutionize the fruit crops. These attempts included the introduction of the Elberta peach by Samuel Rumph in 1870 and the establishment of the Georgia Experiment Station in Griffin, one of the first State Agricultural Experiment Stations established in the United States, in 1888.
Today, Fort Valley, the county seat of Peach County, is known as the Peach Capital of the World. It is also home to Lane Southern Orchards and the annual Georgia Peach Festival—where visitors can enjoy a taste of the world's largest peach cobbler, made fresh each year.
---
Explore the links below to learn more:
Related Marker Text – Georgia Experiment Station
University of Georgia – Peaches History
Clemson University – Chinese Peaches: Past and Present
University of North Carolina – Raphael Jacob Moses Autobiography, 1892
New Georgia Encyclopedia – Peaches
New Georgia Encyclopedia – Raphael Moses
Office of the Secretary of State – State Fruit
Explore Georgia – 10 Things You Probably Didn't Know About Georgia Peaches
Smithsonian Magazine – The Fuzzy History of the Georgia Peach
Encyclopedia Brittanica – Peach