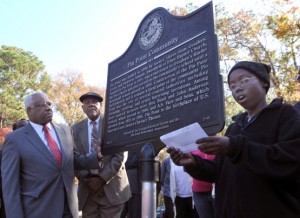 This week's #MarkerMonday highlights Pin Point Community, a small unincorporated rural community in the Savannah Metropolitan Area near the Moon River. Pin Point was established by freed slaves following the Civil War, many of whom had worked on Beaulieu Plantation, situated on the Vernon River.
After General William Tecumseh Sherman overtook the battery that had defended Beaulieu Plantation, he issued an order that moved the freed slaves onto the surrounding islands, including Ossabaw, Skidaway, and Green Islands.
In 1896, several devastating storms destroyed these coastal communities, and most structures on Ossabaw Island, leaving their inhabitants without homes. This prompted a group of freed slaves to purchase tracts of a plantation from Judge Henry McAlpin. The judge had acquired the 600-acre property in a public auction earlier that year for just over $1,000, which would amount to more than $25,000 today. The purchased land would come to be known as Pin Point, and the African-American buyers included the families of William Bond and Benjamin Dillward. The name 'Pin Point' may be a contraction of 'Chinquapin Point,' for the copious amounts of chinquapin trees growing in the area.
Today, the community remains on the same grounds, and much of the land is still owned by the descendants of the original purchasers. Until 1985, its sole business was the A.S. Varn and Son Oyster and Crab Factory, which has since been transformed into the Pin Point Heritage Museum. Another landmark in the Pin Point Community, since 1897, has been the Sweetfield of Eden Baptist Church, which remains a worshipping and gathering spot for locals. The church sits next to the community cemetery, which holds the remains of Pin Point's founders.
Pin Point is also the birthplace of Clarence Thomas, Associate Justice of the Supreme Court of the United States and the second ever African American to serve on the nation's highest court.
---
Explore the links below to learn more about Pin Point Community.
Hidden Histories: Pin Point Community
Pin Point Heritage Museum Website
Pin Point Heritage Museum (YouTube Video)
Further Reading
Richardson, Matt. "This Georgia Community Produced a Supreme Court Justice, Honors Our Ties to the Sea." Islandpacket. January 31, 2018. Accessed April 23, 2018.