To further explore this year's Georgia History Festival theme, "The United States Constitution: Ensuring Liberty and Justice for All," December's #MarkerMondays examine Georgians' contributions to the development of a government elected by, accountable to, and representative of the citizenry.
---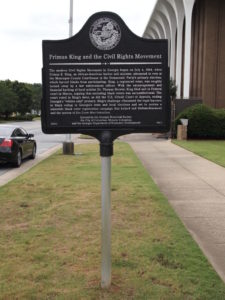 This week's #MarkerMonday highlights Primus E. King's role in confronting disenfranchisement in Georgia.  On July 4, 1944, Primus E. King, a registered African-American voter, was forcibly stopped and intimidated by a police officer at the Muscogee County Courthouse when he attempted to vote in the Democratic Party's primary election. The events following would help destroy one of Georgia's most successful Post-Reconstruction tools in disenfranchising its black citizens: the so-called "white primary."
King's decision to challenge the white primary in Georgia occurred shortly after the U.S. Supreme Court decision in Smith v. Allwright on June 12, 1944, which held that "all citizens [have] a right to participate in the choice of elected officials without restriction by any state because of race" and that "opportunity for choice is not to be nullified by a state through casting its electoral process in a form which permits a private organization to practice racial discrimination in the election." Following a meeting with the Citizen Committee in Columbus in which civil rights advocate Dr. Thomas Brewer and others discussed the recent Supreme Court decision, King volunteered for a "test case" in Georgia.
After his encounter with local law enforcement at the polls on July 4, 1944, King, with the assistance of Dr. Brewer and the Citizen Committee, took King v. Chapman to court with judgement in his favor at the federal court on October 12, 1945, and upheld later on March 6, 1946 in the U.S. Circuit Court of Appeals in New Orleans. Similar cases quickly followed in Alabama, Florida, and Louisiana. Most plaintiffs, like King, had support from the NAACP, specifically then-lawyer Thurgood Marshall. By removing the barrier to vote for a representative in the Democratic Party's primaries, these cases increased African-American political influence in the largely one-party South.
---
Explore the links below to learn more about Primus E. King and Georgia civil rights in the 1940s.
Today in Georgia History (Thomas Brewer)
New Georgia Encyclopedia (Primus E. King)
King v. Chapman, 62 F. Supp. 639 (M.D. Ga. 1945)
Chapman v. King, 154 F.2d 460 (5th Cir. 1946)
Encyclopedia.com (White Primary)
Further reading
The Georgia Historical Quarterly published articles related to Primus E. King, civil rights, and the white primary which can be accessed on JSTOR. If your library does not have access to JSTOR, you can go to www.jstor.org and create a free MyJSTOR Account.
Other related JSTOR articles.
General Oral History Collection, Columbus State University Archives, Columbus, Georgia. (Primus King oral history)