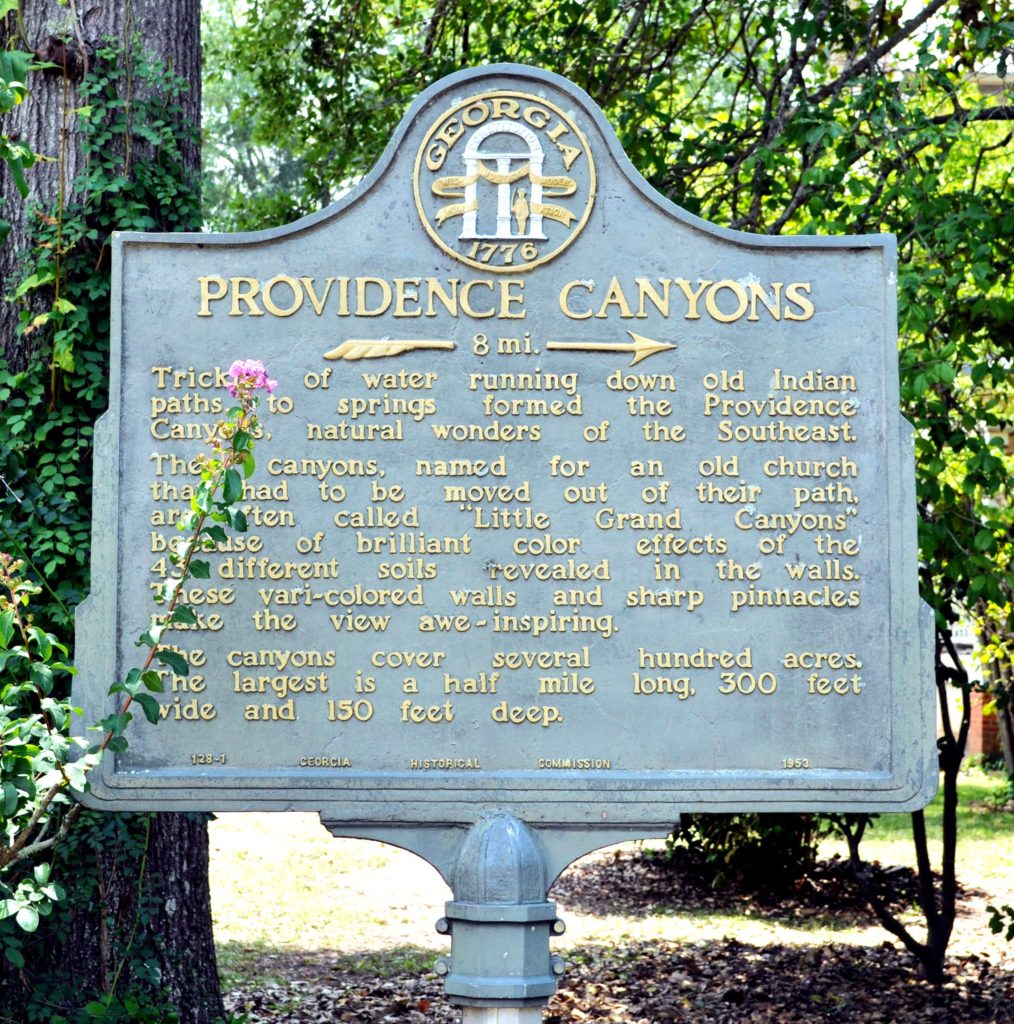 This week's #MarkerMonday looks at Providence Canyons and their creation. Lumpkin, Georgia, is home to Georgia's very own "Little Grand Canyon" and is considered one of the Seven Natural Wonders of Georgia. Fifty million years ago Stewart County was covered by an ancient ocean that deposited layers of sediments on the sea floor, which can be seen in the canyon walls today. Originally formed by poor farming practices, Providence Canyon State Park is still changing due to continuous erosion of the sediments.
The land where Providence Canyons exists today was originally ceded to the United States from the Creek Indians, who lived there prior to the creation of the gullies. Stewart County was constituted on December 23, 1830, after it was split from Randolph County. Although the land was hilly, it did not include the steep, 150-foot canyon walls that exist today—a result of erosion.
After settlement and development, Stewart County quickly became one of Georgia's largest cotton-producing counties. Settlers cleared trees to allow cotton farms to expand but did not practice land-preserving irrigation techniques. Without root systems to hold the soil together or rotating crops, rain and runoff developed gullies that continued to expand. By the late 1850s farmland was separated by ditches three to five feet deep; only a few decades later, in 1893, a photograph shows the formed gorges. As the gullies grew the agriculture industry in Stewart County declined and gave way to tourism. By the 1930s Providence Canyon was already considered "Georgia's Little Grand Canyon," and efforts to make it a national park were underway. However, the nature of the canyon's creation prevented it from gaining national recognition. Providence Canyon State Park opened in 1971 and the colorful layers of sediment are still a popular attraction for visitors and a learning opportunity for geologists.
---
Related Marker Text-Lumpkin and Stewart County
New Georgia Encyclopedia-Providence Canyon
New Georgia Encyclopedia-Seven Natural Wonders of Georgia
New Georgia Encyclopedia-Stewart County
Stewart County, 1893. R.T. Humber arranged for a photographer to take photographs of Providence Caves located near Lumpkin, Ga.
"What Gullies Mean: Georgia's "Little Grand Canyon" and Southern Environmental History"