September brings the beginning of another school year and the beginning of the Georgia History Festival. The Georgia History Festival is the signature K-12 educational program of the Georgia Historical Society. This year, the Georgia History Festival theme is "A Legacy of Leadership." For the month of September, #MarkerMondays will focus on education and highlight leaders in the profession.
---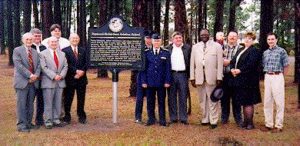 This week's #MarkerMonday highlights the Raymond-Richardson Aviation School in Douglas, Georgia. Following President Franklin D. Roosevelt's signing of the Civilian Pilot Training Act of 1939, which allowed college students to learn basic flight skills in preparation to receive a private pilot certificate, a Civilian Contract Pilot School was founded in Douglas. As specified by the act's guidelines, students were required to take a ground course and complete 35-50 hours of flight training. Under the leadership of Wesley Raymond, South Georgia College, and the Civil Aeronautics Authority, construction began on the aviation school in the summer of 1941 by civilian contractor Raymond-O'Neal Aviation Company. The first class of cadets arrived that fall. Following the United States' entrance into World War II, the aviation school was converted into an army air field and used as the 63rd Flight Training Detachment Airbase.
The flight school was reorganized in 1942 under Wesley Raymond and Robert Richardson as Raymond-Richardson Aviation Company, providing the name which continues to identify the air base. Prior to arriving at Raymond-Richardson Aviation School, or other such aviation schools, cadets were required to complete testing at the Classification Center for advanced training placements and attend pre-flight training school.  As a primary flight school, cadets remained at Raymond-Richardson Aviation School for 9 weeks before graduating and moving on to basic flight training and advanced flight training. Pilots who earned their wings went on to fight in every major theater of the Second World War. The base was officially closed in 1944 as the war ended and the air field reverted back to the City of Douglas to be run as a civilian facility. The airstrip and hangers continue to be used as a municipal airport.
---
Explore the links below to learn more about the Raymond-Richardson Aviation School, the Civilian Pilot Program, and Georgia's role in World War II.
New Georgia Encyclopedia (World War II in Georgia)
World War II Flight Training Museum and 63rd AAF Flying Training Detachment
National Museum of the US Air Force: Civilian Pilot Training Program
WWII Army Air Forces Contact Flying School Airfields Database Summary (Listed as Douglas Mun. Apt.)
Boeing. "They ought to get a citation…" Edited by William B. Ziff. Flying Magazine, July 1944, 125. (Ad for flight schools using Boeing planes)
"63rd AAF-FTD reunion to return to Douglas." Douglas Now. September 28, 2015. Accessed August 23, 2017. http://www.douglasnow.com/index.php/community/item/1748-63rd-aaf-ftd-reunion-to-return-to-douglas.
Preston, Robert. "Cadets, families enjoy one last flight training detachment reunion." Douglas Now. October 26, 2016. Accessed August 23, 2017. http://douglasnow.com/index.php/community/item/3321-cadets-families-enjoy-one-last-flight-training-detachment-reunion.
National Register of Historic Places: 63rd Army Air Forces Contract Pilot School (Primary)
Further Reading
History: 63rd Army Air Forces Contract Pilot School (Primary). Raymond-Richardson Aviation Co. Douglas, Georgia. Activation to December 1941. (a declassified 27 page PDF document of the early history of the Raymond-Richardson Aviation School)
Kraus, Theresa L. Federal Aviation Administration Historian (FAA) "The CAA Helps America Prepare for World War II." (3 page essay)
Related Marker Monday Posts
Lindbergh's Solo Flight (Posted May 22, 2017)
Admiral John Henry Towers (Posted May 9, 2016)
Birthplace of the Eighth Air Force (Posted January 25, 2016)