To further explore this year's Georgia History Festival theme, "The United States Constitution: Ensuring Liberty and Justice for All," October's #MarkerMondays look at the executive branch of government and Presidents of the United States with Georgia ties. GHS is proud to house archival materials that relate to these executive branch leaders.
---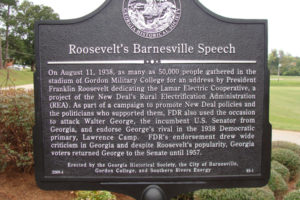 This week's #MarkerMonday highlights a speech given by President Franklin Roosevelt in Barnesville, Georgia, on August 11, 1938.On this occasion, the President announced that the Rural Electrification Administration (REA), a New Deal project, was helping to launch the Lamar Electric Cooperative. The event attracted 50,000 people to Gordon Military College in Lamar County.
Roosevelt visited Georgia countless times throughout his life. During the speech, Roosevelt expressed that his "little cottage at Warm Springs, Georgia, was the birthplace of the Rural Electrification Administration." Since 1924, Roosevelt frequented Warm Springs for rehabilitation treatment from the effects of his battle with polio. He noticed that electricity prices were more expensive at his cottage than at his urban home in New York. Georgia power companies refused to install the lengths of power lines to connect distant rural homes, and high prices kept Georgia farmers from recovering after the Great Depression.
Roosevelt wanted to expand electricity's availability and reduce prices. He believed that it was a necessity that all Americans should be able to afford. As a solution, the REA supported the Lamar Electric Cooperative which extended electric services to Lamar County and surrounding areas.
In his speech, Roosevelt also openly campaigned for the upcoming senatorial election. He criticized the incumbent running for reelection, Walter George, who no longer supported the New Deal programs. Instead, Roosevelt favored Lawrence Camp, a New Deal supporter. Despite the President's remarks of his conservatism, George was reelected. Although Roosevelt was widely admired in Georgia, his deviation from the REA program during this speech was a bold risk. President Roosevelt's margins of victory in his 1940 and 1944 reelections were noticeably smaller in Georgia.
---
Explore the links below to learn more about President Roosevelt's experiences and influence in Georgia.
GHS is proud to house the Lillian Bolton Collection on Georgia's Bicentennial Celebration, at which President Roosevelt was the keynote speaker. The Thomas Gamble Scrapbooks and Photographs feature images of Gamble with President Roosevelt. Lastly, the William F. Stevenson Letters and Invitations house letters between Stevenson and Roosevelt while he was a politician.
Today in Georgia History (FDR Dies at Little White House)
Today in Georgia History (FDR's Controversial Speech in Barnesville)
Today in Georgia History (FDR and Warm Springs)
Today in Georgia History (FDR Establishes Thanksgiving)
Georgia History Today, Spring 2008 Wol 2, No 2
Georgia State Parks and Historic Sites: Little White House
The American Presidency Project: Franklin D. Roosevelt (Address at Barnesville, Georgia)
Further Reading:
The Georgia Historical Quarterly has published two articles about Franklin Roosevelt, his presidency, and time in Georgia which can be accessed on JSTOR. If your library does not have access to JSTOR, you can go to www.jstor.org and create a free MyJSTOR Account.
Related #MarkerMonday Posts
Living and Learning in the Mountains (Posted September 4, 2017)
Little White House (Posted April 24, 2017)
Flint River Farms Resettlement Project (Posted December 24, 2016)
Georgia Warm Springs Foundation (Posted July 11, 2016)