To highlight this year's Georgia History Festival theme, "A Legacy of Leadership," November's #MarkerMondays explore Georgia's military history.
---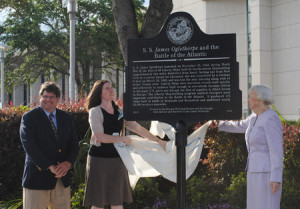 This week's #MarkerMonday highlights the S.S. James Oglethorpe, the first of 88 Liberty Ships built by Southeastern Shipbuilding Corporation in Savannah, Georgia. During World War II, both the Allied and Axis Powers fought for control of the Atlantic Ocean, known as the Battle of the Atlantic. The Allies used the Atlantic to resupply Great Britain and the Soviet Union, a task made difficult and dangerous due to the German U-boats patrolling the waters. During the war, Georgians built 173 mass produced merchant vessels, referred to as Liberty Ships, in shipyards in Savannah and Brunswick.
In early 1942, the Southeastern Shipbuilding Corporation received a contract from the United States Maritime Commission to produce Liberty Ships in Savannah. Southeastern Shipbuilding launched its first ship, S.S. James Oglethorpe, on November 20, 1942. After being outfitted for a maiden transatlantic voyage, the James Oglethorpe, joined Convoy HX-229 sailing from New York to Liverpool, England on March 9, 1943. On March 16, 1943, the James Oglethorpe was torpedoed by Walkerling (U-91). The ship tried to make its way to St. Johns in Newfoundland, the nearest harbor, but was lost at sea along with 44 of her 74-man crew. The surviving men, rescued by the H.M.S. Pennywort and the H.M.S. Beverly, landed in Londonderry in Northern Ireland on March 22. Despite the loss of the James Oglethorpe and many other ships during the war, the Liberty Ship-building program pressed on, constructing nearly 27, 000 ships in the United States.
---
Explore the links below to learn more about the S.S. James Oglethorpe, liberty ships, and Georgia during World War II.
GHS is proud to house the logbooks of the S.S. Juliette Low, another liberty ship built in Savannah by the Southeastern Shipbuilding Corporation, and a letter regarding the launch of the S.S. William G. Lee from the Southeastern Shipbuilding Corporation.
Wrecksite.eu: S.S. James Oglethorpe
Savannah Morning News: Marker honors S.S. James Oglethorpe
NPS.gov: Liberty Ships and Victory Ships (Part of the Teaching with Historic Places Lesson Plans)
ThoughtCo.com: World War II: The Liberty Ship Program
Armed-Guard.com: Liberty Ships
Skylighters.org: Vessel Type EC2- The Liberty Ship
Shipbuildinghistory.com: Southeastern Shipbuilding, Savannah, GA
Golden Isles, Georgia: Liberty Ships (Shipbuilding in Brunswick)
Smithsonian Channel: Battle for the Atlantic
Imperial War Museums: What do you know about the Battle of the Atlantic?
BBC: The Battle of the Atlantic: The U-boat Peril
Further Reading
The American Maritime History Project. Braving the Wartime Seas: A Tribute to the Cadets and Graduates of the U.S. Merchant Marine Academy and Cadet Corps Who Died During World War II. Edited by George J. Ryan. Compiled by Thomas F. McCaffery. Bloomington, IN: Xlibris, 2014.
Related Marker Monday Posts
S.S. Oklahoma and Esso Baton Rouge Attacked by U-123 (Posted April 3, 2017)