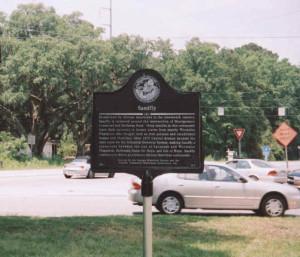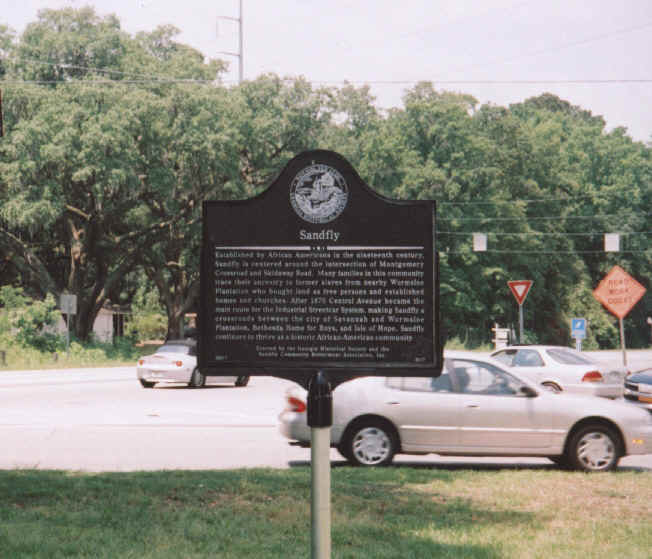 This week's #MarkerMonday highlights Sandfly, a community southeast of Savannah, created by the former slaves of nearby Wormsloe and Modena Plantations and maintained by their descendants. The earliest settlers of Sandfly made their livings modestly; the men often by fishing and crabbing and the women by cleaning nearby Isle of Hope estates. During Reconstruction in the late nineteenth century, the area became known for its tradesmen – carpenters, plasterers and bricklayers. Families in Sandfly often aided one another with building and improving their homes.
This emphasis on learning a trade also allowed many former slaves and their descendants to make a living in and around Savannah, by constructing buildings, creating roads or contributing their carpentry skills.
In the early twentieth century, Sandfly served as the suburban center for the streetcar system, connecting the communities of Vernonburg, Beaulieu, Montgomery, Isle of Hope, and Thunderbolt to downtown Savannah. In 1908, the causeway connecting Isle of Hope and Sandfly was used in the American Grand Prize Automobile Race. The race consisted of more than 25 miles of oiled gravel and was a part of the nation's most prestigious automobile racing series of the era, the Vanderbilt Cup.
Today, the area is home to bustling retailers and restaurants. The central intersection of the community today is at Montgomery Crossroads and Skidaway Road, and the area is more accessible than before from all parts of Savannah, due to the Harry S. Truman Parkway, a county-maintained freeway completed in 2014.
---
Explore the links below to learn more about Sandfly.
GHS is proud to house Drums and Shadows: Survival Studies Among the Georgia Coastal Negroes by Georgia Writers' Project and the Works Progress Administration, which traces the persistence of African heritage in the culture of blacks living on the Georgia coast in the 1930s.
Encounter and Exchange: A New Landscape for Freed Slaves
Georgia Conservancy's Blueprints for Successful Communities – Sandlfy: At the Crossroads
SavannahDreamVacations.com: Sandfly
Further Reading
National Park Service. Low Country Gullah Culture Special Resource Study and Final Environmental Impact Statement. Atlanta, GA: NPS Southeast Regional Office, 2005.