To highlight this year's Georgia History Festival theme, "A Legacy of Leadership," February's #MarkerMondays explore the history of the colony of Georgia and its first city, Savannah.
---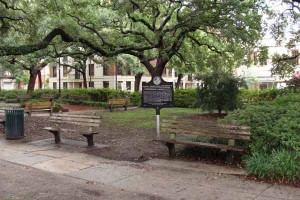 In honor of Georgia Day, February 12, today's #MarkerMonday highlights Georgia's founding and colonial capital- Savannah! Signed by King George II in 1732, the original charter establishing the Georgia colony gave governing control to the Georgia Trustees for twenty-one years, after which the rule of the colony would revert to the Crown. Unlike other colonial charters, Georgia's made no plans for local representative government. Instead, the Georgia Trustees handled the colony's affairs from their office in London and, during the first few years of the colony's history, General James Edward Oglethorpe acted as its unofficial governor.
The colony struggled during the Trustee period. Crop failures, disease, and economic malaise all contributed to a growing discontent with Trustee rule.  Many chose to leave Georgia for Great Britain or other colonies. The Trustees also faced resistance in their attempts to secure additional funding from the British. A group of colonists known as the malcontents greatly objected to the Trustees restrictions on landownership, rum, and slavery. Unlike many of Georgia's initial colonists, most of the malcontents came to the colony without monetary aid from the Trustees. The malcontents believe the Trustees were limiting the colony's economic potential and felt that there was no outlet for them to air their grievances without an official governor or local legislature. In an attempt to address growing discontentment, the Trustees relaxed their restrictions on landownership in Georgia and removed the restrictions on slavery. In March 1750, the Georgia Trustees in London also resolved to allow colonists to elect a representative assembly to advise the Trustees. The first group of representatives met in Savannah in 1751. When Georgia transitioned to a royal colony in 1754, Savannah was established as the seat of government in the colony and was home to the office of the royal governor, the Commons House of Assembly, and the court system.
---
Explore the links below to learn more about Savannah as the colonial capital of Georgia, the history of representative government in Georgia, and the Georgia Trustees.
GHS is proud to house some of the Georgia Trustees manuscripts, regarding the Trustees and establishment of the colony of Georgia.
New Georgia Encyclopedia (Georgia's Historic Capitals)
New Georgia Encyclopedia (Trustee Georgia, 1732-1752)
New Georgia Encyclopedia (Government and Laws: Overview)
New Georgia Encyclopedia (Savannah)
New Georgia Encyclopedia (Malcontents)
Georgia Archives: Royal Charter of the Colony of Georgia
Further Reading
Robert M. Howard, Arnold Fleischmann, and Richard M. Engstrom. Politics in Georgia: Third Edition (Athens: University of Georgia Press, 2017).
Kenneth Coleman, Colonial Georgia: A History (New York: Scribner, 1976).