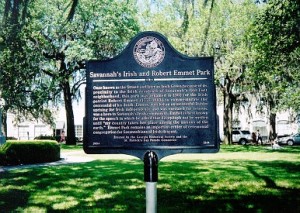 This week's #MarkerMonday highlights Savannah's Robert Emmet Park and its connections to the city's Irish community. Today, Savannah is known for its St. Patrick's Day celebrations, with the first St. Patrick Day parade held in 1813. The first Irish migrants, mostly Irish protestants, began arriving in Georgia shortly after the founding of the colony. In the 1830s, the first large wave of Irish immigrants arrived in Savannah, many securing employment with the Central of Georgia Railway. Another large group of Irish immigrated to Georgia and other parts of the United States following the outbreak of the 1840s potato famine. In addition to working for the Central of Georgia, Irish migrants also worked in the docks and wharves along River Street.
Many of the laborers lived in the nearby Old Fort neighborhood (located in present day Washington Ward and extending to River Street) surrounding the park. The park, known during the mid to late 1800s as the "Irish Green," served as a recreation space and meeting ground within Savannah's Irish community. Named for the Irish patriot, Robert Emmet Park was added to the City of Savannah register in 1902. Today, Robert Emmet Park continues to be a center of ceremonial congregation for the Savannah's Irish community.
---
Explore the links below to learn more about Robert Emmet Park and the Irish in Savannah.
Visit Historic Savannah: Emmet Park
Moon.com: Irish History in Savannah, Georgia
The Wild Geese: The Irish In Savannah
Ancestry.com: Irish to Georgia (USA)—1700s and early 1800s
Georgia Southern University News Room: Uncovering Irish-American Heritage in Savannah
Welcome to Savannah: St. Patrick's Day Events in Savannah
The Hibernian Society of Savannah: Highlights of Our History
Further Reading
Clippings and articles on Emmet Park. From the GHS Vertical Files.
Deignan, Tom. "America's Other Irish." Irish America – Irish America Magazine. Oct. & Nov. 2006. http://irishamerica.com/2006/10/americas-other-irish/.
Gleeson, David T. The Irish in the South, 1815-1877. Chapel Hill: University of North Carolina Press, 2001.
Peterson, Lanie Lippincott. "Old Irish neighborhoods, traditions remembered." Savannah Morning News. March 17, 2004. http://savannahnow.com/stories/031704/LOC_irishneighbor.shtml#.Wp19SPnwbIV.
Rykiner, Sarah A. Savannah's Ethnic Irish Neighborhoods in the Nineteenth Century: A Historical Multimethod Examination. Master's thesis, Georgia Southern University, 2017. Spring 2017. https://digitalcommons.georgiasouthern.edu/cgi/viewcontent.cgi?referer=https://www.google.com/&httpsredir=1&article=2693&context=etd.
Sullivan, JC. "SAVANNAH – TWO OF GEORGIA'S BEST KEPT SECRETS." October 1, 2009. http://sullivansirishamerica.blogspot.com/2009/10/savannah-georgias-best-kept-secret.html.
Tryggestad, Erik. "Irish a big part of city's history." Savannah Morning News. March 16, 1999. http://savannahnow.com/stories/031699/ACCirishinsavannah.html#.Wp19SfnwbIV.