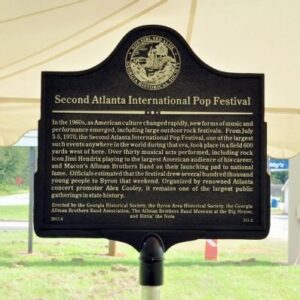 To further examine this year's Georgia History Festival theme, "Tear Down This Wall: Georgia in Cold War America," this week's #MarkerMonday looks at the Second Atlanta International Pop Festival. The Atlanta International Pop Festival was a was a two-day festival in 1969 and returned as a three-day festival in 1970. The music festival scene was a result of the new forms of music and the rapidly changing culture during the Cold War era.
Music and other forms of art are known as a "soft power," for their ability to influence culture as much as they are influenced by culture. This phrase was originally coined by Joseph Nye in the late 1980s for his book Bound To Lead (1990). Rather than forced evolution, soft powers are able to develop cultures by creating trends and that seem preferable to the current norm. In the 1950s, the State Department used jazz music to represent American culture and ideologies over Soviet communism. Musician Dave Brubeck, a First Atlanta International Pop Festival participant, traveled around the world as an American Jazz Ambassador in 1958. However, Brubeck felt that promoting American freedom abroad was contradictory to the reality of segregation at home.
Rock and roll's rise in the 1950s and its transformation in the 1960s also represented rebellion and freedom from the "establishment." During that time and through the 1980s, many artists capitalized on world events and political themes to create popular music. Second Atlanta International Pop Festival Performer Jimi Hendricks is well known for his rendition of The Star-Spangled Banner performed in 1969 at the Woodstock music festival. Critics believed altering the national anthem was an act of protest against the war in Vietnam, but Hendricks affirmed that it was not. Many others heard the song as a representation of loving one's country despite the government's actions.
---
Explore the links below to learn more:
December 9, 2019 Marker Monday – Second Atlanta International Pop Festival
Today in Georgia History-Atlanta International Pop Festival
Vietnam at 50: Patriotism or protest? Army vet Jimi Hendrix had the 'most electrifying moment' at Woodstock
TIME Magazine—How the U.S. Used Jazz as a Cold War Secret Weapon