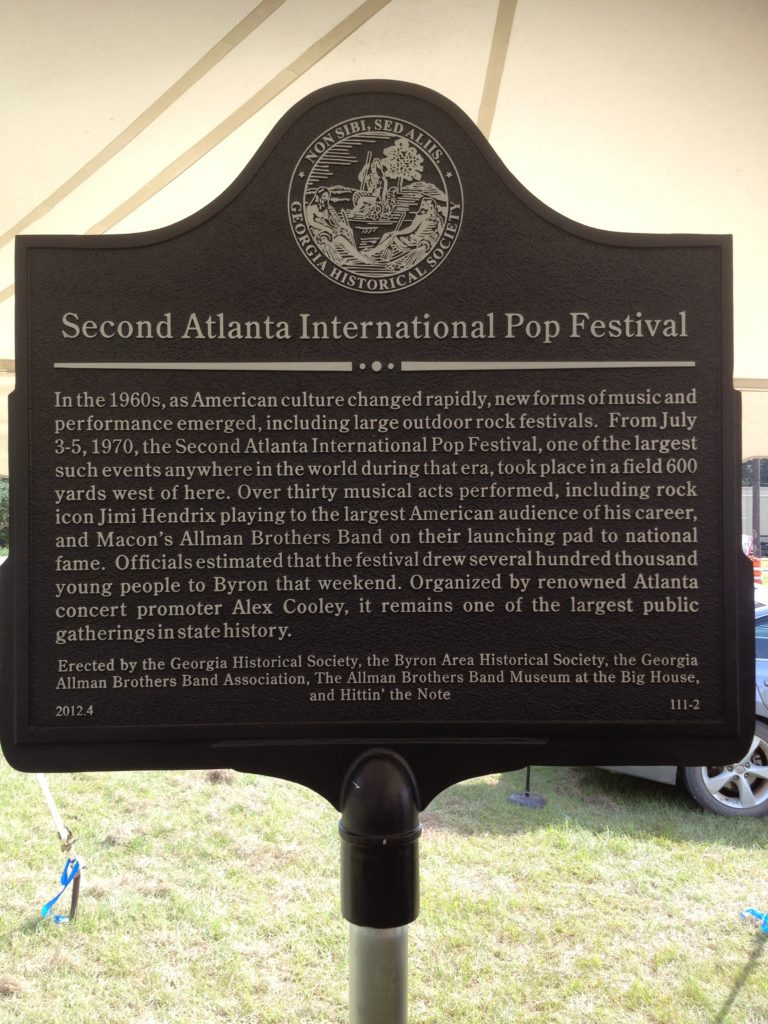 This week's #MarkerMonday discusses the Second Atlanta International Pop Festival historical marker in Peach County. On July 3-5, 1970, Atlanta concert promoter Alex Cooley hosted the Second Atlanta International Pop Festival in Byron, Georgia, about an hour and a half south of Atlanta. The festival was one of many that began during the peak years of rock festivals in the late 1960s and early 1970s. During this time, the 1970 Atlanta International Pop Festival held the title as the second-largest multi-day outdoor rock festival in America, second only to Woodstock in 1969.
The Second Atlanta International Pop Festival featured rock and roll Hall of Famers Jimi Hendrix, B.B. King, and is considered the launching pad to fame for the Macon-based Allman Brothers Band, who played twice during the three-day festival in front of thousands of fans. An hour after it began, people outside the festival gates began to demand free entry like Woodstock, insisting that music should belong to the people. Outnumbered, festival organizers opened the gates, despite the low-cost fourteen-dollar ticket, for over thirty bands across three days.
Although police from surrounding counties attended the event, Governor Lester Maddox, an opponent of the festival, sent state troopers and GBI agents to Byron in expectation of drug use and nudity. The police were needed instead to direct the miles of traffic on I-75. Maddox vowed to prevent another festival and called the Georgia House Committee on Drug Usage to hold hearings about banning future festivals, but no laws were ever passed. The Atlanta International Pop Festival did not return for a third year, but Alex Cooley returned years later with Music Midtown, another multi-day music festival running from 1994-2005, returning again in 2011.
---
Explore the links below to learn more:
Today in Georgia History-Atlanta International Pop Festival
New Georgia Encyclopedia-Alex Cooley (1939-2015)
The Allman Brothers Band-History
Houston home journal. (Perry, Houston County, Ga.) 1924-1994, June 04, 1970, Image 2
Houston home journal. (Perry, Houston County, Ga.) 1924-1994, June 25, 1970, Image 1
Houston home journal. (Perry, Houston County, Ga.) 1924-1994, July 02, 1970, Image 1
The Southern Israelite. (Augusta, Ga.) 1925-1986, July 10, 1970, Image 1
The Southern Israelite. (Augusta, Ga.) 1925-1986, July 10, 1970, Image 5