In honor of Independence Day, the #MarkerMonday posts for the month of July will shine a spotlight on Georgia during the Revolutionary War.
---
T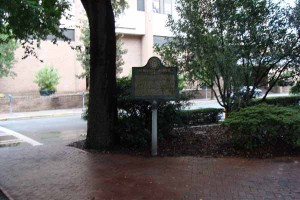 his week's #MarkerMonday highlights the life of Revolutionary War hero, Sergeant William Jasper. Sources differ regarding William Jasper's origins. One account claims that Jasper was a German immigrant to the American colonies arriving in Pennsylvania in 1767. Other accounts suggest Jasper was born circa 1750 to a family in Virginia later moving to South Carolina or born to a family of Irish descent living in South Carolina. By 1776, it is believed Jasper moved south and lived in the Halifax District in Georgia (present day Burke County) when he was recruited to join the 2nd South Carolina regiment of the Continental Army during the American Revolution, and soon rose to the rank of sergeant. In June 1776, Jasper participated in the defense of Fort Sullivan (later Fort Moultrie) in Charleston, South Carolina. Under the command of Colonel William Moultrie, patriot forces successfully defended the port of Charleston from the British Navy. During the battle, the flag over the fort was shot down and fell into a ditch outside the walls. Jasper recovered the flag and replaced it on the parapet. This action is said to have acted as a rallying point for patriot forces.
Colonel Moultrie later granted Jasper a roving commission, allowing Jasper and a small group of men to perform reconnaissance missions to gather information on British military positions and capture outposts. His roving commission was renewed by Captain Francis Marion and General Benjamin Lincoln. In his memoirs, Lincoln recalled Jasper had infiltrated British lines in Savannah by claiming to be a deserter. After eight days behind British lines, Jasper returned to patriot forces to inform on British positions. During the Siege of Savannah in October 1779, Jasper was mortally wounded while trying to raise the fallen patriot flag. It is believed that Jasper is buried somewhere near Savannah, the exact location is unknown. The state of Georgia named Jasper County in his honor. In 1888, a monument to Jasper was unveiled in Madison Square in Savannah.
---
Explore the links below to learn more about Sergeant William Jasper and the American Revolution in Georgia.
General Casimir Pulaski/Sergeant William Jasper historical marker text
Jasper County historical marker text
Today in Georgia History (Siege of Savannah)
New Georgia Encyclopedia (Revolutionary War in Georgia)
New Georgia Encyclopedia (Jasper County)
Visit Historic Savannah: William Jasper
Revolutionary War Journal: British Defeat at Fort Sullivan- Charlestown, June 28, 1776
South Carolina Hall of Fame: William Jasper (video)
Our Georgia History: William Jasper
South Carolina Battlefield Trust: Fort Sullivan
Further Reading
Davis, Robert S. "HISTORY: Sgt. William Jasper." Charleston Currents, May 15, 2015. Accessed June 20, 2018.
Harvey, John. "Sergeant William Jasper." USGenWeb Archives – Census Wills Deeds Genealogy. July 2, 2004. Accessed June 20, 2018. Transcribed by Suzanne Forte.
The Georgia Historical Quarterly has published several articles related to Sergeant William Jasper and the Revolutionary War in Georgia which can be accessed on JSTOR. If your library does not have access to JSTOR, you can go to www.jstor.org and create a free MyJSTOR Account.
Related #MarkerMonday Posts
Attack on British Lines (Posted July 2, 2018)
Archibald Bulloch (Posted July 31, 2017)
Casimir Pulaski (Posted July 16, 2018)