This week's #MarkerMonday explores the Silk Culture in Georgia, especially in the settlement of Ebenezer in Effingham County. The settlement of Ebenezer was originally founded in 1734 by persecuted protestants from Salzburg, in present-day Austria, known as Salzburgers. They were led by Reverend Johann Martin Bolzius, who was asked to accompany the Salzburgers to America. The James Habersham diary, found in the GHS collection, notes the details of silk production in the Ebenezer settlement.
Upon the settlement of Georgia, the Georgia Trustees hoped the colony would become a major producer of silk. Before leaving Savannah for the settlement of Ebenezer, the Salzburgers were each given mulberry trees to plant on their land and were taught how to reel silk from silkworm cocoons. The trees, raised in Savannah's Trustees' Garden, are essential to silk production as silkworms only eat white mulberry leaves. Although the silk industry never flourished in Georgia, the Ebenezer settlement produced large quantities of high-quality silk until the Revolution halted production that never resumed. In 1735 Queen Caroline received about eight pounds of raw silk from Savannah, enough to produce a robe, but by 1772 the silk culture in Ebenezer far surpassed Savannah's production, producing 435 pounds of raw silk. During their time working in silk production, the Salzburgers experimented with silk quality, realizing the effects of the sun on luster and how to produce cleaner threads versus longer threads. They also experimented with silk reels, even sending one to England to be used as a model. After the Revolutionary War silk production in Georgia was largely replaced by cotton, but there have been attempts across Georgia to revive the potential industry since the 1800s.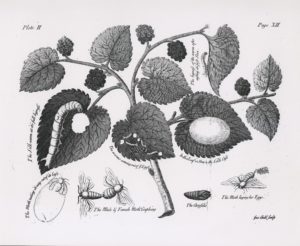 ---
Explore the links below to learn more:
Related Marker Text – Town of Ebenezer
Related Marker Text – The Trustees' Garden
New Georgia Encyclopedia – Salzburgers
New Georgia Encyclopedia – Ebenezer
New Georgia Encyclopedia – Johann Martin Boltzius (1703-1765)
New Georgia Encyclopedia – Trustee Garden
New Georgia Encyclopedia – Textile Industry
Georgia; comprising sketches of counties, towns, events, institutions, and persons, arranged in cyclopedic form
GHS houses several collections related to silk production in Georgia.
Habersham family papers, MS 1787
James Habersham dairy, MS 1787
Johann Martin Bolzius reports and diaries, MS 1407
The Georgia Historical Quarterly has published several articles relating to silk culture and Ebenezer which can be accessed on JSTOR. If your library does not have access to JSTOR, you can go to www.jstor.org and create a free MyJSTOR Account.
Silk Culture in the Colony of Georgia
The Meanings of Georgia's Eighteenth-Century Great Seals