November 11, 2018, marks 100th anniversary of the armistice that ended the First World War. In honor of this anniversary, November's #MarkerMonday posts will look at Georgia's role in the First World War.
---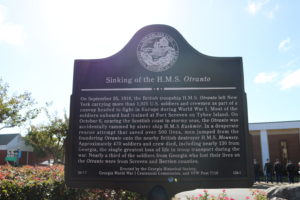 This week's #MarkerMonday highlights the sinking of the British troopship H.M.S. Otranto in the Irish Sea on October 6, 1918. On September 25, 1918, the British troopship H.M.S. Otranto left New York carrying more than 1000 U.S. soldiers and crewmen as part of an Allied Forces convoy sailing to fight and on to fight during World War I. Most of the soldiers on the H.M.S. Otranto had trained at Fort Screven on Tybee Island, Georgia. After crossing the Atlantic Ocean, the convoy entered the Irish Sea. On October 6, while still a day from port, a storm developed with gale-force winds. During the storm, a large wave struck the H.M.S. Kashmir, another troopship in the convoy, causing it to ram at full steam into the Otranto.
The Otranto sustained a gaping hole in its hull and loss of power, the latter which caused it to drift toward the Scottish island of Islay. One of the convoy's escort destroyers, the H.M.S. Mounsey sailed alongside the much-larger Otranto four times to attempt a rescue. In all, the Mounsey was able to rescue nearly 600 men, 300 of which were Americans. Within three hours, the Otranto crashed on the Islay's rocky shore. Approximately 470 soldiers and crew died, including nearly 130 from Georgia. Georgia's Berrien and Screven counties suffered the most loss of life from the sinking of the Otranto, and it was the single greatest loss of life in troop transport during the war. After the First World War ended in November 1918, many bodies were disinterred and sent home for reburial, or were reburied in Surrey, England. In December 1918, the American Red Cross erected a stone monument on the rocky promontory called Mull of Oa, on the Isle of Islay in memory of the Americans who lost their lives on the Otranto and Tuscania, a troop ship sank by a German U-boat in 1914.
---
Explore the links below to learn more about the sinking of the H.M.S. Otranto.
New Georgia Encyclopedia (World War I in Georgia)
BBC News: Ceremony to remember sinking of the H.M.S. Otranto on Islay
Savannah Morning News: Looking for Pearls: Tybee remembers a WWI tragedy at sea
Find a Grave: Screven Men and the Otranto
Ray City History Blog: The American Monument at Mull of Oa
Further Reading:
Scott, R. Neil. Many Were Held by the Sea: The Tragic Sinking of HMS Otranto. Lanham, MD: Rowman & Littlefield Publishers, 2012.
Related Marker Monday Posts:
The Poppy Lady (Posted May 30, 2015)
Camp Gordon (Posted November 13, 2017)
Fort Screven (Posted November 12, 2018)