To highlight this year's Georgia History Festival theme, "Tear Down This Wall: Georgia in Cold War America," this week's #MarkerMonday will look at the Spelman College Women Who Serve historical marker in Fulton County. Spelman College was founded in 1881 and has a history of community involvement from students and alumni. During the Cold War-era, the United States' involvement in the Vietnam War sparked students across the country to speak out, including the students at Spelman College.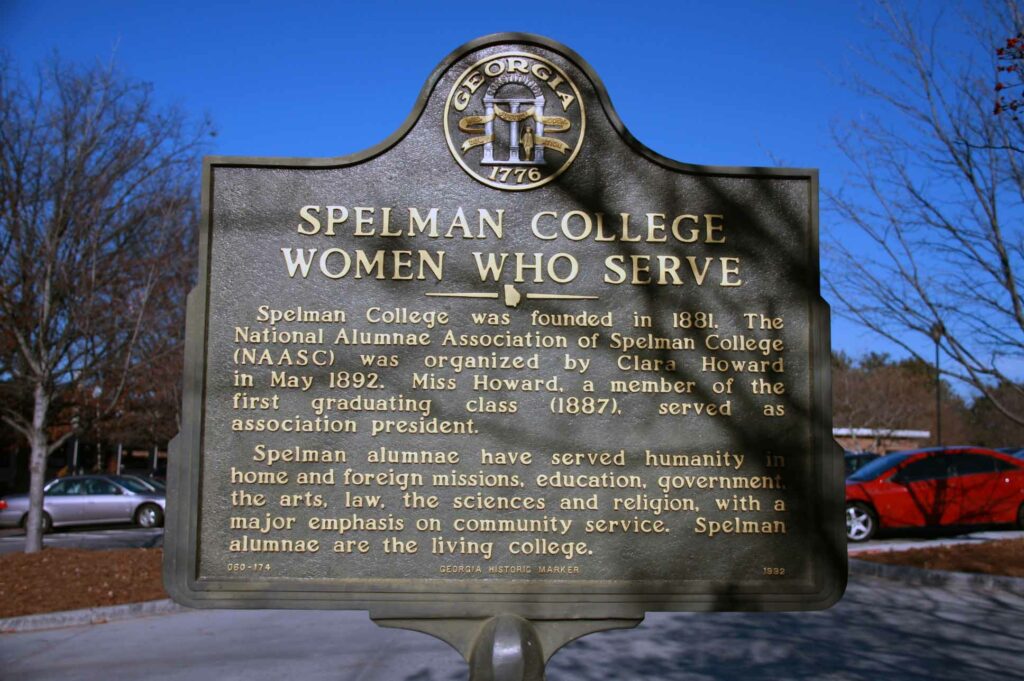 During the early 1960s, activist students at Spelman College joined efforts with students from surrounding colleges in the Atlanta Protest Movement. This movement organized nonviolent protests leading to the desegregation of lunch counters in Atlanta and inspired students nationwide to participate in the Civil Rights Movement. Many events were organized by the Student Non-Violent Coordinating Committee (SNCC), an organization founded to help provide a voice to Black young adults. By the time the US began accelerating its prosecution of the Vietnam War in March 1965, students were mobilized to act.
SNCC was also outspoken against the war and organized anti-draft and anti-war efforts, including the Atlanta Project special committee. The Atlanta Project, led by Spelman graduate Gwen Robinson, now known as Zoharah Simmons, and Bill Ware, was formed in 1966, after the Georgia State Legislature voted to bar Julian Bond from taking his newly elected seat as a Representative. Despite Bond leaving SNCC upon its radicalization a few years earlier, the Legislature believed that his ties to SNCC and its opposition to the Vietnam War meant he could not be trusted. The Atlanta Project members canvased the Vine City area to rally support for Julian Bond and explain the organization's stance on Vietnam.
"We believe the United States government has been deceptive in its claims of concern for the freedom of the Vietnamese people, just as the government has been deceptive in claiming concern for the freedom of colored people in other countries such as the Dominican Republic, the Congo, South Africa, Rhodesia, and in the United States itself."

From the SNCC Statement on Vietnam.
While they met with Vine City residents, Atlanta Project members started to become more concerned with daily issues they faced, such as housing and employment. Ultimately, Bond took his place in the Georgia General Assembly after the Supreme Court decided his opposition was protected freedom of speech. He served his constituents, as a Representative and later a Senator, for 20 years.
---
Explore the links below to learn more:
Related Marker Text – Atlanta Student Movement
Related Marker Text – Rush Memorial Congregational Church
New Georgia Encyclopedia – Student Movements of the 1960s
New Georgia Encyclopedia – Student Nonviolent Coordinating Committee (SNCC)
Atlanta University Center Robert W. Woodruff Library – African Americans in Times of War Exhibit
SNCC Digital Gateway – SNCC's Atlanta Project grows out of Julian Bond's campaign
SNCC Digital Gateway – Anti-Draft Protests by SNCC's Atlanta Project
SNCC Digital Gateway – Vietnam