During the month of August, cultural institutions throughout Savannah, including the Georgia Historical Society, are highlighting African-American history in our communities by participating in the #LiftEveryVoice program. To complement this program, August's #MarkerMondays highlight prominent sites and people in Georgia's African-American history.
---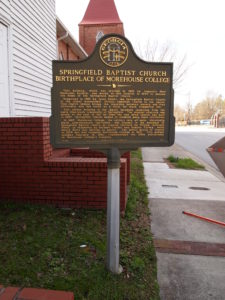 This week's #MarkerMonday highlights Springfield Baptist Church and its role as a center for educational and political activities for African Americans in Augusta, Georgia, following the Civil War. The church, established in 1773, helped many African Americans transition between slavery and free citizenship, and has stood as a focus for black community life. On January 10, 1866, Springfield Baptist Church hosted the Freedmen's Convention, where African-American delegates from eleven counties met to form the Georgia Equal Right's Association. Members of the group petitioned the Georgia legislature for the inclusion of African Americans on juries, the right to vote, and equal treatment and access to transportation.
The following year, the Augusta Institute was founded in the church basement by William Jefferson White with encouragement from the Rev. Richard Coulter, a former slave, and Rev. Edmund Turney. The school received support and sponsorship from the American Baptist Home Mission Society to educate African Americans for careers in ministry and teaching. Augusta Institute opened with roughly 40 enrolled students who attended evening classes. During its early years, financial troubles caused the school to temporarily close on several occasions. In 1871, following the appointment of the school's first president, Dr. Joseph T. Robert, the school began to experience a period of stability as Robert worked to recruit new students and carry out fund-raising campaigns. The school relocated to Atlanta in 1879 and was renamed Morehouse College in 1913.  Today, Morehouse College is one of ten historically black colleges and universities in Georgia.
---
Explore the links below to learn more about Springfield Baptist Church, the Freedmen's Convention of 1866, and Morehouse College.
New Georgia Encyclopedia (Springfield Baptist Church)
New Georgia Encyclopedia (Morehouse College)
National Park Service: Augusta: Springfield Baptist Church
National Park Service: Augusta: African Americans in Augusta
My GA History: Springfield Baptist Church
Morehouse College: The Morehouse Legacy
Our Georgia History: Joseph Thomas Robert
GeorgiaInfo: This Day in Georgia History- January 10, 1866: Georgia Equal Rights Association Form
This Cruel War: The Beginnings of Black Southern Activism- Georgia Freedmen's Convention of 1866
Further Reading
Brawley, Benjamin. History of Morehouse College, Written on the Authority of the Board of Trustees. Atlanta, GA: Morehouse College, 1917.
Bryant, Jonathan M. "'We Have No Chance of Justice before the Courts:' The Freedmen's Struggle for Power in Greene, County, Georgia, 1865-1874′ in Georgia in Black and White: Explorations in the Race Relations of a Southern State, 1865-1950. Edited by John C. Inscoe. Athens: University of Georgia Press, 2009.
Colored Conventions: PROCEEDINGS OF THE FREEDMEN'S CONVENTION OF GEORGIA: ASSEMBLED AT AUGUSTA, JANUARY 10TH, 1866, CONTAINING THE SPEECHES OF GEN'L TILLSON, CAPT. J.E. BRYANT, AND OTHERS