This week's #MarkerMonday highlights the Springfield Central High School historical marker in Effingham County, the newest Georgia Historical Marker erected as an addition to the Georgia Civil Rights Trail. Springfield Central High School was founded as part of Governor Herman Talmadge's Minimum Foundation Program in 1949 in an effort to maintain racial segregation by creating schools that were still separate but comparable to one another. These schools became known as equalization schools, although the school's equipment, supplies, and curriculum were not equal to nearby White schools.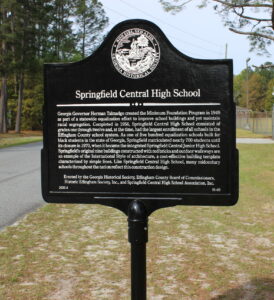 The Minimum Foundation Program for Education set the minimum standards for education across the state while keeping the schools segregated. The program established a fixed 9-month school term, administration duties at the local level, the duties of the State Board of Education, a minimum salary for teachers, and more.
Between 1952 and 1962 roughly 1,200 new schools were built in Georgia to consolidate schools and grade levels in a central location and provide new educational facilities in place of the traditional small or rural schoolhouses. Of the new schools, about 500 were built for Black students, despite the 1954 Brown v. Board of Education decision finding segregated schools unconstitutional. Like Springfield Central High School, many of the new schools were built in the International architecture style that spread classrooms and facilities across multiple buildings. This cost-effective and modern style was used for Black and White schools and was thought to represent Georgia's "forward thinking" view on education.
Springfield Central High School was opened 65 years ago in April 1956 to high school students, and in September 1956, for students in grades one through eight. The school came to be known as "Central" and was Effingham County's first consolidated school for Black students. Since the closure of Central in 1970, the facility has been used as a middle school, elementary school, pre-school, and recreational space.
---
Explore the links below to learn more:
"Equalization Schools in Georgia's African-American Communities, 1951-1970"
New Georgia Encyclopedia – Public Education (PreK-12)
Georgia Legislative Documents – Education – Minimum Foundation Program