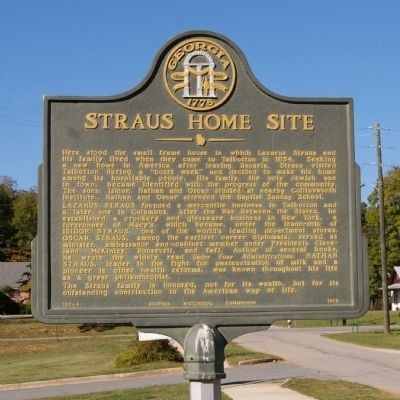 In recognition of Jewish American Heritage Month, this week's #MarkerMonday highlights the Straus family who made their home in rural Georgia from 1854-1865. Originally from Germany, Lazarus Straus and his wife, Sara, immigrated to the United States with their sons Isidor, Nathan, and Oscar in 1852. In 1854, they relocated from Philadelphia, Pennsylvania to Talbotton, Georgia, where Lazarus opened a general store. In 1863, partially inspired by the anti-Semitism they experienced after a Talbott judge began questioning the loyalty of local Jewish merchants to the Confederacy, the Straus family moved to Columbus, Georgia. Following the war, the family settled in New York City and opened an importing business, L. Straus & Sons, which sold their imports in R.H. Macy's & Co. Isidor and Nathan became part owners of the Macy's company, and in 1896, the brothers secured sole ownership of Macy's.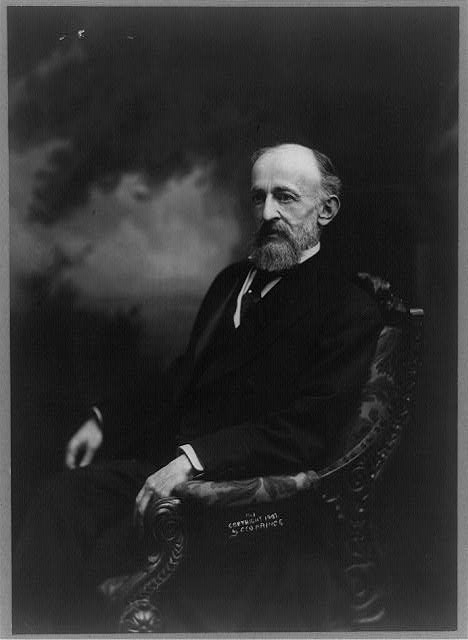 The Straus family was also known for its political and philanthropic work. After moving to New York, Oscar Straus, the youngest Straus brother, attended Columbia College and Columbia Law School. He worked as a lawyer before serving as the United States Minister to the Ottoman Empire in the late 1880s and later served as Ambassador to Turkey. During his diplomatic career, Oscar also served as a cabinet member under Presidents Cleveland, McKinley, T. Roosevelt, and Taft. He was the first president of the American Jewish Heritage Society and authored several books. Similarly, his brother Isidor served in the United States House of Representatives in 1894-1895. He was also a founder of The Educational Alliance in New York City. In addition to his business ventures, Nathan Straus became a leader in the crusade for pasteurization of milk and a pioneer of health reform.
As the historical marker notes, "The Straus family is honored, not for its wealth, but for its outstanding contribution to the American way of life."
---
Explore the links below to learn more about the Straus family.
Straus Home Site Historical Marker Text (2)
Straus Home Site Historical Marker Text (3)
Straus Historical Society: The Families
The House of Brilliant Glass: L. Straus & Sons and Its History
Encyclopedia Titanica: Straus a Famous Merchant
The National Museum of American History Collections: Trade Catalogs from L. Straus & Sons
The House of Brilliant Glass: Craig Cranson Write-Up (discusses the history of L. Straus & Sons and Macy's)
Further Reading
Whitaker, Jan. "Isidor Straus." In Immigrant Entrepreneurship: German-American Business Biographies, 1720 to the Present, vol. 2, edited by William J. Hausman. German Historical Institute. Last modified February 18, 2015.
"Oscar S. Straus, Statesman and Philanthropist, Dies". Jewish Telegraph Agency. May 4, 1926. Accessed July 19, 2018.
Straus, Oscar S. Under Four Administrations: From Cleveland to Taft. Boston and New York: Houghton Mifflin Company, 1922. (autobiography)
"NATHAN STRAUS DIES; NATION MOURNS LOSS OF PHILANTHROPIST." The New York Times(New York City), January 12, 1931. Accessed July 19, 2018.