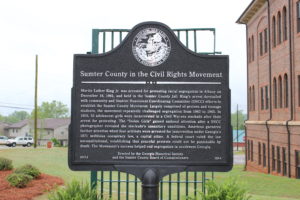 This week's #MarkerMonday discusses the Civil Rights Movement in Georgia. The Sumter County Movement, led by the Student Nonviolent Coordinating Committee (SNCC, challenged segregation from 1963 to 1965. In July 1963, 33 adolescent girls arrested for protesting were incarcerated in a Civil War-era stockade. The girls were held in the stockade without their parent's knowledge, and no information regarding their whereabouts was made public. In September, an SNCC photographer located the girls and photographed their living conditions. The national edition of the Chicago Defender published a headline reading, "Kids Sleeping on Jail Floor: Americus Hellhole for Many." Political pressure was applied to authorities in Americus, GA for release of the "Stolen Girls" when the photographer revealed the images to the public.
Explore the links below to learn more about the Civil Rights Movement in Georgia and specifically in Sumter County.
GHS is proud to house several objects in connection with the Civil Right Movement in Georgia which can be searched in our online catalog.
New Georgia Encyclopedia (Civil Rights Movement)
New Georgia Encyclopedia (Americus Movement)