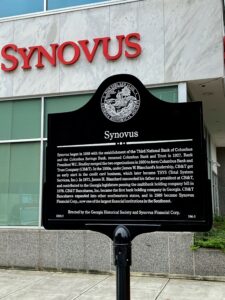 This week's #MarkerMonday highlights the Synovus historical marker in Muscogee County, the newest Georgia Historical Marker erected as an addition to the Georgia Business History Initiative. Synovus was created by the merger of Third National Bank of Columbus and Columbus Savings Bank, founded by G. Gunby Jordan and W.C. Bradley. It is believed that the institutions were created to address the needs of Columbus's textile workers, who did not have a safe place to store their money. Today, Synovus operates 249 branches across five states.
G. Gunby Jordan, one-half of the founding partners of Third National Bank of Columbus and Columbus Savings Bank, served as president of both banks until 1921, when W.C. Bradley took over the role. In 1930, the financial institutions merged under Bradley to form Columbus Bank and Trust (CB&T).
In July 1931, W.C. Bradley, who was also serving as Chairman of the Coca-Cola Company board, was a charter member of the Committee of One Hundred. Formed in response to the Great Depression, the committee consisted of Georgia business, industrial, and financial leaders and oversaw "Georgia's Five-Year Plan." This plan outlined steps to analyze and address problems affecting industrial development and progress in Georgia. The Committee believed that rather than allow local municipalities to struggle, business leaders across the state should unite to launch a campaign selling Georgia's potential to people across the world and reignite a spirit in the state in its current residents. It was the first state-wide collaborative effort in history to advance Georgia's progress and hoped to bring more people, full employment, land development, and millions of dollars to the state. Bradley believed that Georgia needed "to launch an aggressive, convincing sales campaign, telling the nation why they should come to Georgia and stressing the charm of our climate and natural beauty."
In addition to his work at CB&T, Bradley began the W.C. Bradley Co., which continues to focus on leisure products such as Char-Broil, Badlands, and Lamplight; The W. C. and Sarah Bradley Foundation in 1943; and served as the director for other Georgia-based financial institutions and the Central of Georgia Railway. Bradley continued to serve as president of CB&T until his death in 1947. Throughout the second half of the twentieth century, CB&T Bancshares grew to encompass electronic banking and credit services while expanding into surrounding southeastern states. In 1989, its name was changed to Synovus Financial Corporation under CEO James Blanchard.
---
Explore the links below to learn more:
To learn more about the growth of Synovus, read the in-depth profile and accompanying case study for classroom use created as part of the Georgia Business History Initiative to teach about Synovus's impact on the development of Georgia.
Business History Initiative – TSYS
Synovus – Our History
New Georgia Encyclopedia – W. C. Bradley
Early County news. (Blakely, Ga.) 1859-current, June 18, 1931, Image 2
The Forsyth County news. (Cumming, Ga.) 19??-current, July 16, 1931, Image 2
Jackson herald. (Jefferson, Jackson County, Ga.) 1881-current, July 16, 1931, Image 2
Union recorder. (Milledgeville, Ga.) 1886-current, December 10, 1931, Image 9