The following is based on an account as recalled by a survivor, printed in The Indianapolis News, February 15, 1886.
On April 12, 1862, a group of U.S. operatives, led by spy and contraband merchant James J. Andrews captured the locomotive General, while the crew and passengers were in a nearby hotel eating breakfast. By stealing the train, the raiders could travel from the Big Shanty Depot north to Chattanooga while destroying tracks and burning bridges, thereby cutting Chattanooga's main supply line. Dressed as civilians claiming they were leaving "Lincoln's Government," the men boarded the empty train within sight of Confederate recruits.
Cutting telegraph lines along the way slowed the escape, but releasing train cars to block the path helped make up the lost time. Jeff Cain and Anthony Murphy, witnesses to the train's escape, and the General's conductor, Captain W.A. Fuller, tried to catch up by running on foot, utilizing handcars, and driving the Texas, another train, up the track backwards, to stop the raiders attempts.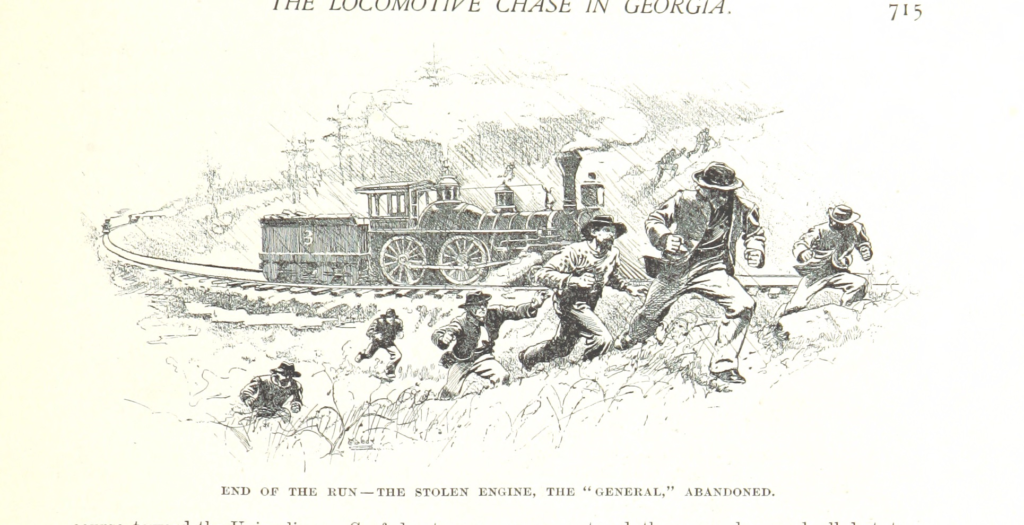 After running out of fuel only fifteen miles from Chattanooga, the U.S. soldiers decided to run into the woods to escape capture. Authorities in Chattanooga tracked the escapees with bloodhounds and caught them all. Eight prisoners, including Andrews, were hung as spies, six were able to later escape, and the remaining were traded back to the U.S. government. Upon reaching the North, the Raiders met with President Lincoln, who gifted them with a lieutenant's commission, and Congress awarded them, and others posthumously, medals for bravery.
---
Explore the links below to learn more about Andrews Raid:
Indianapolis News, "A Memorable Raid"
The Southern Museum of Civil War and Locomotive History
The Georgia Historical Quarterly has published several articles relating to Andrews Raid which can be accessed on JSTOR. If your library does not have access to JSTOR, you can go to www.jstor.org and create a free MyJSTOR Account.
William Faulkner and the Andrews Raid in Georgia. 1862
Joel Chandler Harris's Version of the Andrews Raid: Writing History to Please the Participant