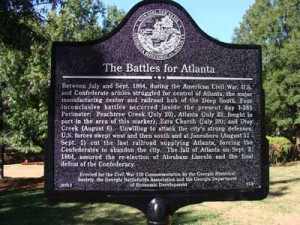 Today's #MarkerMonday features the Battles for Atlanta marker in Fulton County. This week in 1864, the Civil War battles surrounding one of the South's most important railroad junctions concluded after the Union Army destroyed the last railway supplying the city in Jonesboro. General William Tecumseh Sherman subsequently captured Atlanta on September 2nd. The fall of the city helped secure Abraham Lincoln's re-election and allowed for Sherman's destructive March to the Sea – two events that greatly contributed to the Confederate defeat.
Read the full historical marker text.
To learn more about the Battles for Atlanta, visit the Today in Georgia History website at or consult the Georgia Historical Society's collections.