In honor of the 2016-2017 Georgia History Festival, "A State of Innovation," the January #MarkerMonday posts will focus on Georgia businesses and the GHS Business History Initiative. Over the course of the month, these posts will highlight the impact of Georgia businesses on the state and national economies, and also explore how Georgians have influenced the larger economic landscape.
---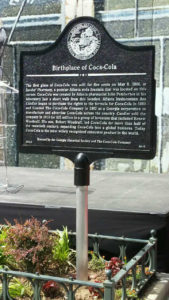 This week's #MarkerMonday discusses the world's most recognized brand—The Coca-Cola Company. Pharmacist John Stith Pemberton created the now famous beverage, Coca-Cola. Pemberton, who had studied herbal medicine, developed a syrup from the coca leaf and kola nut. When the temperance movement, a social movement against the consumption of alcohol, came to Georgia, Pemberton added sugar to the syrup and began marketing the beverage, Coca-Cola, as the ideal temperance beverage. Named for the two primary ingredients in Pemberton's formula, Coca-Cola was first sold in 1886 a short walk from Pemberton's lab at Atlanta's Jacob's Pharmacy.
In 1887, Asa Candler bought the rights to Coca-Cola from Pemberton and launched a new marketing campaign for the beverage as a soft drink. Under Candler's leadership, Coca-Cola's distribution expanded to soda fountains beyond Atlanta, and he founded The Coca-Cola Company in 1892. Large scale bottling of the product began in 1899. In order to differentiate between Coca-Cola and imitation beverages, a unique contoured bottle was designed and approved for use in 1916. In 1919, Candler sold the company for $25 million to a group of investors that included Ernest Woodruff. His son, Robert Woodruff, led The Coca-Cola Company for more than half of the twentieth century, expanding The Coca-Cola Company from primarily a soda fountain company to a global business. Today The Coca-Cola Company is the most widely recognized consumer product in the world.
---
Explore the links below to learn more about The Coca-Cola Company.
GHS is proud to house several artifacts and photographs related to The Coca-Cola Company which can be referenced by searching the GHS collections.
GHS is dedicated to telling the stories of iconic Georgia businesses, like The Coca-Cola Company, through the Georgia Business History Initiative.
Today in Georgia History Video- John Stith Pemberton
Today in Georgia History Video- Asa Candler
Today in Georgia History Video- Robert Woodruff
Today in Georgia History Video- New Coke and Coca-Cola Classic
New Georgia Encyclopedia- Coca-Cola Company
New Georgia Encyclopedia- Coca-Cola Philanthropy
New Georgia Encyclopedia- John Stith Pemberton
New Georgia Encyclopedia- Asa Candler
New Georgia Encyclopedia- Robert Woodruff
Rogers, Staci. "What Doesn't Kill You Only Makes You Stronger: How the Temperance Movement Helped Make Coca-Cola." Historia19 (2010): 44-59. Accessed December 14, 2016. http://www.eiu.edu/historia/2010Rogers.pdf .
"I'd Like to Buy the World a Coke" 1971 Coca-Cola Commercial