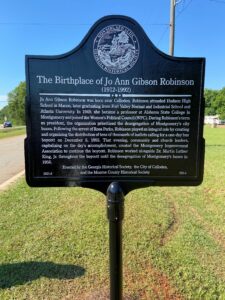 This week's #MarkerMonday examines the Birthplace of Jo Ann Gibson Robinson historical marker in Monroe County, the newest Georgia Historical Marker erected as an addition to the Georgia Civil Rights Trail. You may be familiar with the story of Rosa Parks, her arrest for not giving up her seat on a bus to a White passenger in Montgomery, Alabama, and the Montgomery Bus Boycott that followed. However, you may not be familiar with the integral role of Jo Ann Gibson Robinson in organizing the boycott.
Jo Ann Gibson Robinson was born in Culloden, Georgia, on April 17, 1912. She focused on academics, was the first person in her family to graduate from college, and became a teacher. In 1949, Robinson became a professor at Alabama State College in Montgomery. Upon moving to Alabama, she also joined the Women's Political Council (WPC), a civic group for African-American women, and became president in 1950. Robinson made desegregating buses a top priority as president. She wanted to prevent others from facing humiliation and fear from being threatened for sitting in the wrong seat—something she experienced early in her time in Montgomery.
Robinson led the organization, creation, and distribution of flyers calling for a bus boycott following Rosa Parks' arrest on December 1, 1955. Word spread through newspapers, church services, and word of mouth, and on December 5 a majority of Montgomery's Black bus riders participated in the boycott. The city did not meet initial demands for change, so the boycott was prolonged through the organization of carpools and lowered cab fares. Throughout the boycott Robinson and other leaders were targets of acts of intimidation for their efforts. On December 20, 1956, the U.S. Supreme Court ruled against segregated buses, stating they violated the Fourteenth Amendment, bringing an end to the boycott. Robinson continued teaching and later authored The Montgomery Bus Boycott and the Women Who Started It published in 1987.
---
Explore the links below to learn more:
National Museum of African American History & Culture – Jo Ann Robinson: A Heroine of the Montgomery Bus Boycott
History.com – Montgomery Bus Boycott
The Martin Luther King, Jr. Research and Education Institute – Robinson, Jo Ann Gibson
Fort Valley State University – Alumni Spotlight: Jo Ann Gibson Robinson, '47