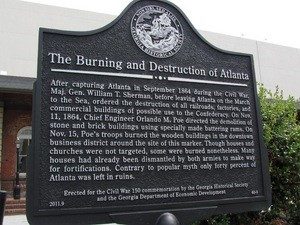 This week's #MarkerMonday commemorates the 151st anniversary of the burning and destruction of Atlanta. After the city surrendered in September, General William T. Sherman ordered that all facilities capable of offering military support to the Confederacy be destroyed before he left on his infamous March to the Sea. On Nov. 11, 1864, U.S. forces began demolishing the city's brick and stone buildings that fell under Sherman's orders. Four days later, troops burned wooden buildings in the business district. Although Federal forces did not target churches or private residences, some fell victim to the process, and a number of others had already been dismantled (by both U.S. and Confederate forces) to make fortifications. Ultimately, approximately forty percent of the city was destroyed.
Explore the links below to learn more about the burning and destruction of Atlanta.
GHS houses several primary source materials about the destruction of Atlanta and the battles that led to it, including letters from both generals and common soldiers involved in the campaign and can be referenced in our online catalog.