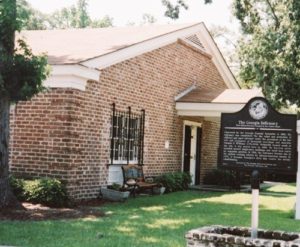 This week's #MarkerMonday highlights the Georgia Infirmary in Savannah, Georgia. For over 175 years, the Georgia Infirmary has served the community as a resource for medical training and services. The Georgia General Assembly Chartered the Georgia Infirmary in 1832.  Under the provisions of Savannah merchant and minister Thomas F. Williams' (1774-1816) last will and testament, the Infirmary was established for the "relief and protection of afflicted and aged Africans." Originally located south of Savannah, the Infirmary relocated to Abercorn Street in 1838. In 1904, the Georgia Infirmary became one of the earliest training schools for African-American nurses. It followed in the footsteps of the McKane Hospital for Women and Children and Training School for Nurses, which opened its doors to African Americans both seeking medical attention and desiring to enter the medical profession in the 1890s by Cornelius and Alice McKane. Today, as part of the St. Joseph's/Candler Health System, the Georgia Infirmary continues to focus on issues related to African-American healthcare.
Explore the links below to learn more about the Georgia Infirmary.
GHS is proud to house the Georgia Infirmary records from 1833-1973.
Savannah African-American Medical Pioneers Historical Marker
Charity Hospital and Training School for Nurses Historical Marker