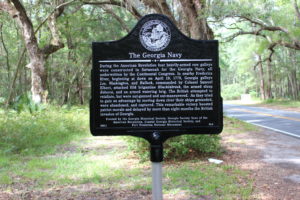 This week's #MarkerMonday shines a light on Georgia's early naval history.  During the American Revolution, eleven of the thirteen colonies create state navies. While the size of each navy varied, they shared a common goal to defend the American coast from the British Royal Navy, smugglers, privateers, and pirates. Having been given funds by the Continental Congress, Georgia constructed four heavily-armed row galleys in Savannah to add to its navy. Three of these galleys attacked a small group of British vessels as they entered the St. Simons Sound on April 19, 1778. The British ships, unable to retaliate, went aground forcing the crew to abandon ship. The victory delayed the British invasion of Georgia by more than eight months. However, in 1779, the Georgia Navy participated in the failed Siege of Savannah to retake the city from the British.
Explore the links below to learn more about the American Revolution and Georgia's role in the fight for independence and about the Georgia Navy.
The collections at GHS house a portrait of Colonel Samuel Elbert.