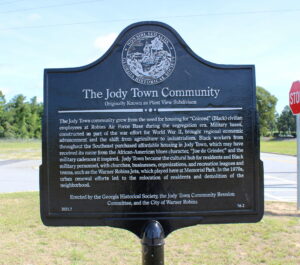 This week's #MarkerMonday highlights The Jody Town Community historical marker in Houston County, the newest Georgia Historical Marker erected as an addition to the Georgia Civil Rights Trail. Originally known as the Plant View subdivision, Jody Town was a segregated community for the Black civilian employees of Robins Airforce Base.
Development of Jody Town began in 1941 with the creation of Robins Airforce Base. The community was within walking distance of the base and some of the first homes were constructed with leftover materials from the base. After the bombing of Pearl Harbor on December 7, 1941, the need for more base employees and servicemen brought more workers to Jody Town. Families saw moving to Jody Town as an opportunity to leave the agricultural and sharecropping industries. In Jody Town they could own their own land, open their own businesses, and support their nation.
Residents of Jody Town sought to support each other within their community. They opened churches, salons, schools, restaurants, and other small businesses. They also promoted extracurricular activities such as scouts, recreational sports, and family activities to the youth population, so they would remain involved in the community. As segregation ended and Jody Town services became more integrated, the community began receiving more money for upgrading public facilities, such as adding streetlights to the recreational fields, from the City of Warner Robins. However, the city began displacing the original Jody Town community in the early 1970s under the Federal Urban Renewal Program, which allowed cities to revitalize "slum" neighborhoods.
---
Explore the links below to learn more:
Renewing Inequality: Urban Renewal, Family Displacements, and Race 1955-1966