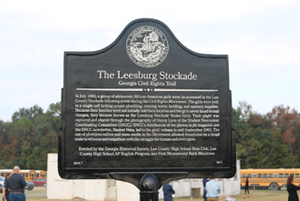 To further examine this year's Georgia History Festival theme, "Tear Down This Wall: Georgia in Cold War America," this week's #MarkerMonday looks at The Leesburg Stockade: Georgia Civil Rights Trail historical marker in Lee County. In July 1963, one year before the passage of the Civil Rights Act of 1964, a group of adolescent African-American girls were incarcerated in the Lee County Stockade following their arrest for challenging segregation laws. They are sometimes referred to as the Leesburg Stockade Stolen Girls, because their parents were never informed of where they were being held.
The girls were imprisoned in a single cell of a stockade building that lacked proper plumbing, running water, bedding, and sanitary supplies. During their time in the stockade, more girls joined the originally arrested girls, making their living conditions even worse. When the Student Nonviolent Coordinating Committee (SNCC) was told by locals where the girls were held, photographer Danny Lyon snuck onto the stockade grounds to capture evidence. Photos of the girls' living situation behind bars were published in Jet magazine and the SNCC newsletter, Student Voice. The use of mass media allowed the girls' story to spread quickly across the country as more news outlets picked up the story. The coverage eventually led to the girls' release in mid September.
During the Cold War era (1945-1991), encompassing the Civil Rights Movement, the expansion of mass media played a critical role in quickly bringing controversial topics—including race relations, political beliefs, and international affairs—into-homes nationwide. Due to the media, people across the country faced coverage of the injustices and inhumane treatment occurring in rural Georgia.
---
Explore the links below to learn more:
Georgia Public Broadcasting – 'I Gave Up Hope': As Girls, They Were Jailed In Squalor For Protesting Segregation
National Museum of African American History & Culture – Hidden Herstory: The Leesburg Stockade Girls