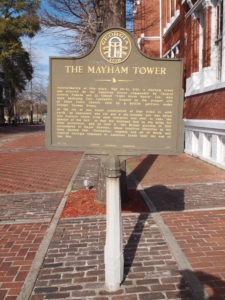 This week's #MarkerMonday discusses the offensive strategy of Patriot forces during the Siege of Augusta during the Revolutionary War. Between 1779-1781, the Patriot Cause suffered major setbacks in Georgia, including defeats during the Siege of Savannah in 1779 and during a 1780 attack to take Augusta from the British. It seemed that Georgia was going to remain in British hands, but that would change decisively the following year when American forces, under the command of General Andrew Pickens and Colonel Henry "Light Horse Harry" Lee decided to make another attempt to retake Fort Cornwallis in Augusta.
Beginning on May 28, 1781, Lee ordered his men to construct a tower in Augusta in preparation for another attack against the British at Fort Cornwallis. Named for Major Hezekiah Mayham after his successful use of the strategy against the British in South Carolina, the Mayham tower stood 30-feet high and was primarily constructed from logs and filled it with earth. A cannon was hoisted to the top of the tower and allowed patriots to fire inside Fort Cornwallis' walls.  On June 5, in the face of overwhelming firepower, the British surrendered. The capture of Augusta gave American peace negotiators in Paris, France, reason to demand Georgia's independence despite Savannah remaining in British hands. On October 19, 1781, the British surrendered to General George Washington at Yorktown and evacuated Savannah, their last holding in Georgia, in July 1782.
Top Image taken from larger image of "Illustration of Fort Cornwallis." Image Credit: Benson J. Lossing, The Pictorial Field-Book of the Revolution (New York: Harper & Brothers, 1852).
---
Explore the links below to learn more about the Mayham Tower and the Revolutionary War in Georgia.
Fort Augusta-Fort Cornwallis: St. Paul's Church Historical Marker Text
New Georgia Encyclopedia (Augusta)
New Georgia Encyclopedia (Revolutionary War in Georgia)
American Military History Podcast: Siege of Augusta and Siege of Ninety-Six
Revolutionary War and Beyond: Second Siege of Savannah
Journal of the American Revolution: Victory for the Georgia Refugees
Related Marker Monday Posts
Marker Monday: Fort Augusta-Fort Cornwallis: St. Paul's Church (June 13, 2016)
Further Reading
Rauch, Steven J. ""A Judicious and Gallant Defense" The Second Siege at Augusta, Georgia (The Battles of Forts Grierson and Cornwallis) 22 May – 5 June 1781." The Southern Campaigns of the American Revolution Vol. 3, Nos. 6-7-8 (June 2006): 32-48. Accessed April 13, 2017. http://southerncampaign.org/newsletter/v3n678.pdf.
McCrady, Edward. The History of South Carolina in the Revolution, 1780-1783. New York: Macmillan Company, 1902.
Cashin, Edward J. The King's Ranger: Thomas Brown and the American Revolution on the Southern Frontier. New York: Fordham University Press, 1999.