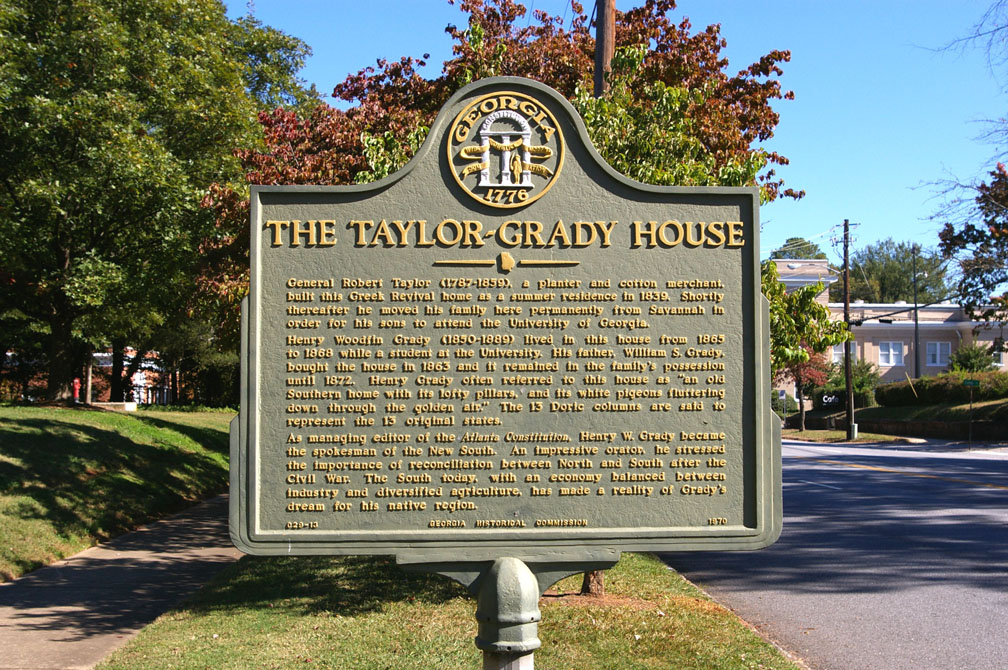 This week's #MarkerMonday explores The Taylor-Grady House historical marker in Clarke County and one of its residents. Robert Taylor built the house as a summer home, but his family moved there permanently when his three sons enrolled at the University of Georgia. They owned the house until 1863 when it was purchased by Major William S. Grady. Major Grady died in the Battle of Petersburg during the Civil War before he could move his family into the house. However, Major Grady's son, Henry Woodfin Grady, moved into the house with his mother in 1865 when he enrolled at UGA.
Upon graduation from the University of Georgia in 1868, Henry Grady pursued a career in journalism, starting his career at the Rome Courier before becoming a partial owner of the Atlanta Daily Herald. There he published his first piece about "The New South" in 1874. His New South ideals promoted Southern industrial growth supported by Northern investments, diversified farming, and white supremacy. His efforts caught the attention of Atlanta Constitution shareholders, who offered him part ownership and a managing editor position with the paper.
Grady used his position at the Atlanta Constitution to promote his New South ideas and industrial development in Georgia, and specifically Atlanta. He stressed the importance of working with Northern industries to bring prosperity to the South but mislead out-of-state industry leaders about current race relations and equality. He promised them cheap labor that could be leased from prisons during a time when African Americans were being targeted and arrested for small crimes. Grady believed Atlanta was an ideal location for industry and advocated this idea to investors at the New England Club in New York City. He promoted multiple "Cotton Expositions" to demonstrate Atlanta's ability to host businesses and to bring economic stimulation and jobs to the citizens. Grady also advocated for the establishment in Atlanta of a new school to focus on industrial growth in the South—the Georgia School of Technology, now the Georgia Institute of Technology, founded in 1885.
Explore the links below to learn more:
Related Marker Text-Cotton States Exposition of 1895
Related Marker Text-Grady County
Related Marker Text-Grady County
Today in Georgia History-Henry Grady
The Taylor-Grady House Timeline
The Taylor-Grady House Namesakes
Henry Grady: The Spokesman of the South
New Georgia Encyclopedia-Henry W. Grady (1850-1889)
New Georgia Encyclopedia-Cotton Expositions in Atlanta
New Georgia Encyclopedia-Georgia Institute of Technology (Georgia Tech)
Georgia Tech History and Traditions
GHS houses several collections related to Henry Grady.
Georgia Historical Society collection of photographs, MS 1361-PH
Meldrim family papers, MS 1288
The Race Question scrapbook, MS 1568
Robert Hunt family papers, MS 2121
The Georgia Historical Quarterly has published multiple articles relating to Henry W. Grady which can be accessed on JSTOR. If your library does not have access to JSTOR, you can go to www.jstor.org and create a free MyJSTOR Account.
"A Letter From Henry W. Grady Regarding Southern Authors and the Piedmont Chautauqua"
"Henry Grady, the Atlanta Constitution, and the Politics of Farming in the 1880s"
"Henry W. Grady, Master of the Atlanta Ring— 1880-1886"
"Imagining a Cotton South: Illustrations from New York's Popular Press, 1854-1888"
"Review: Codes of the New South: Henry Grady and John B. Gordon"
"The House That Grady Built: The Fight for the Confederate Soldiers' Home of Georgia"